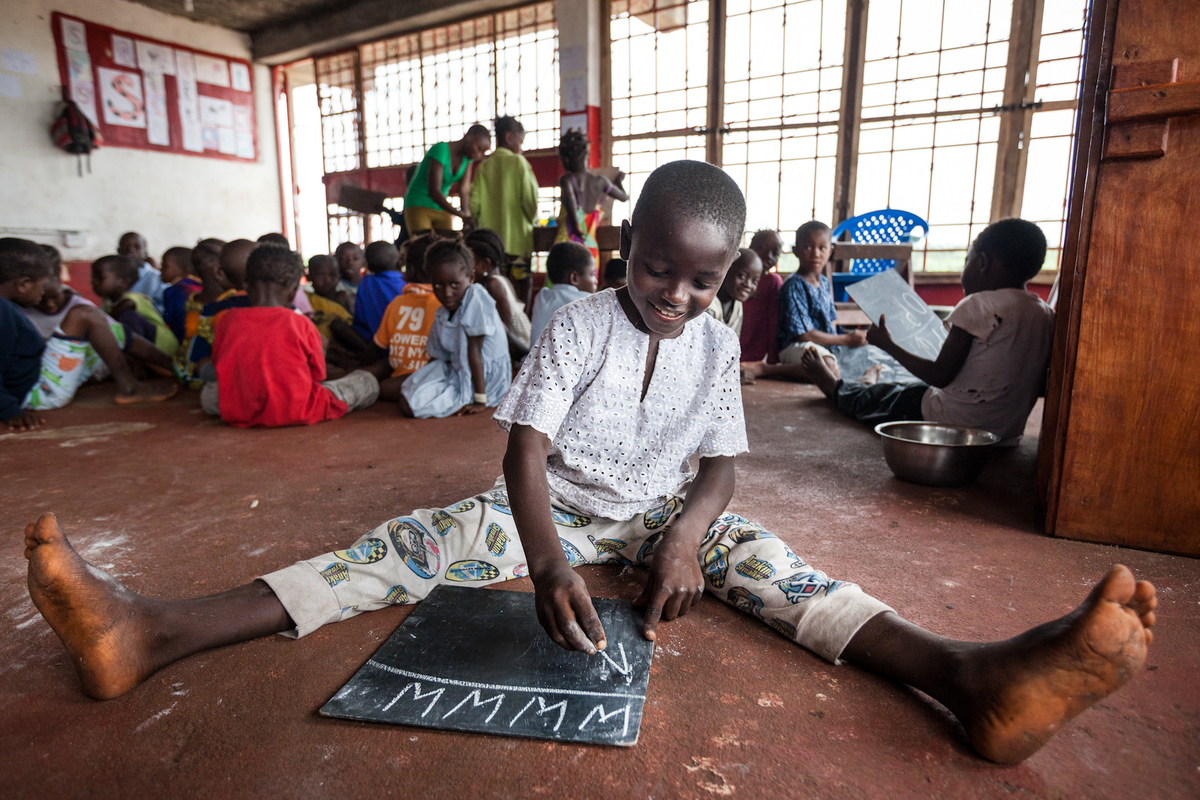 Our Vision
A democratic, dignified and prosperous Sierra Leone, where poverty is eliminated by educated citizens who are able to develop their personal, social and economic wellbeing.
History of EducAid
In 1993, James Boardman and Swithun Mason were part of a student exchange to Sierra Leone. The two students returned to the UK determined to help those youngsters they had met who wanted to go to school but, for the lack of fairly small amounts of money, could not.
They began by sending school fees to Sierra Leone and then, in 1995, registered EducAid as a charity. When Swithun and James revisited in 1996 and 1997 it became clear that it was almost impossible to ensure that the money they were sending was being used well. When they visited their sponsored students in school, they found classes with up to 100 children, often without a teacher as they had not been paid for months, and with no resources beyond a blackboard and a piece of chalk. At that point, we began work on establishing our own school where we could implement a quality and balanced education.
In 2000, Miriam Mason-Sesay, a UK teacher and sister to Swithun, moved from London to the Sierra Leonean capital, Freetown, to start the first EducAid school. On 18th September 2000, 20 young people joined Miriam to found Lumley, our first Junior Secondary School, in a rented house in in the west of Freetown.
Since 2000, EducAid has founded 3 schools and has been asked to run 5 more. There are now 9 schools run by EducAid in the Western and Northern Provinces with more than 3000 pupils being educated, fed and, in many cases, housed by our strong network of teachers and staff in our sites across the country.
Our Mission
EducAid is a UK registered charity that promotes and provides high quality, holistic education to the underprivileged and war affected young people of Sierra Leone. We believe that the education of young men and women is essential to: unlock human potential, overcome poverty, improve wellbeing, build democracy, and that it is the cornerstone of stable development.
Our Strategy
How will EducAid achieve its vision?
Building on the foundation we have established over the last two decades, in addition to running excellent schools and building up our teacher training outreach programme with partner schools across the country, we are now working on a few key projects so that we can have a real impact on both policy and practice in education more broadly in the country:
The establishment of a Leadership Thinking Certificate course. In large part because of the rote learning based education that almost every Sierra Leonean has been subjected to, where creativity and initiative are discouraged, leadership skills are lacking in most institutions and organisations. As of May 2014, EducAid will be offering a Certificate course in Leadership Thinking. It will be accredited by the University of Makeni and will also be the equivalent of the 1st year of a degree course. The full degree course will be established thereafter.
The establishment of an EducAid Institute of Education, Development and Technology, in 5 – 10 years, in which we will deliver high quality degrees and tertiary level qualifications. Accordingly, EducAid staff are constantly upgrading themselves in preparation to meet this new challenge.
In contrast to the top-down approach of the majority of aid interventions, EducAid has a grassroots, build and empower from the bottom strategy. 50% of our staff are our past pupils. This means that we are our beneficiaries. Our beneficiaries become the staff and drive the vision. It also means that our funds are spent on the right end of the chain.