Abubakarr Kanu a.k.a Pirez
I am Abubakarr Kanu alias Pirez, born on 25th December, 1989 in Mabureh Mende and living at Karie street, Port Loko.
I started life with my stepmother since the whereabouts of my father and mother were unknown due to the chaos of the war. I was with her through Primary school and sat to the NPSE in 2002 in very difficult circumstances of real poverty. I survived by eating gari that I begged from my friends and transportation to school was difficult to have. I stopped going to school due to the constraints and spent time at the car wash cleaning bikes and vehicles to survive.
When I heard about EducAid, a free school, I was glad and I enrolled at the JSS. I worked hard and sat to the BECE. In 2006, I got promoted to the WASSCE class and successfully sat to the exam and was later retained as a volunteer teacher.
In 2010-11 academic year I was appointed as a deputy site manager. In the same year I was admitted to study at the Port Loko Teacher Training College on the distance course and later graduated with a Div. 2 in Commercial Studies.
At the start of the 2013-2014 academic year I was appointed to the role of the Deputy Staff Coordinator for EducAid country-wide. In the same year, I was later appointed as the EducAid 4M schools coordinator in the Tonkolili district, where EducAid has taken responsibility for four new primary schools. This is where I am currently serving.
My Pre EducAid life was very difficult but now things are much better with EducAid. I am now proud of my life and EducAid in my current life.
Thanks to all those that made it possible for me.
Abubakarr Kargbo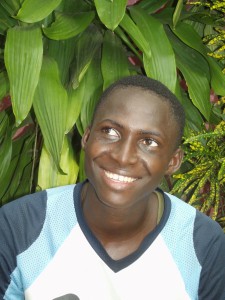 My name is Abubakarr Kargbo. Most people know me as STG. I am twenty-two years old. I come from a large family with very little to survive on. I lost my father eight years ago when I was a boy. My mother is a single parent with six children to care for. She is a subsistence farmer who cannot cater for us all on the little that she earns from selling her produce.
Because of these conditions I was sent from home to a relative in Freetown for a helping hand. Unfortunately, he treated me very badly and I had no option but to move out and live on the streets. The local dump became my home and the source of my income. I served the street for more than four years and the street life became my way of life. I thought that I had no other future and that all was lost. I went through so many problems and obstacles just to survive. I nearly lost my life. I thank God every day that I found EducAid.
I am presently attending EducAid Secondary School in Lumley, a neighbourhood of Freetown. At first I saw it as an opportunity to nick stuff that I could sell on the streets. But I started to see it as a chance to get an education. It was so difficult for me because I had sat for years without schooling and was far behind other students. But I listened to the stories other students and teachers told about how it opened doors for them I grew in motivation. Teachers like Steven, Mamadu, and Mr. Bailey convinced me not to give up, to stay and apply myself.
I came to EducAid almost empty but now I am so proud of what I have achieved. EducAid transformed me and is shaping me still to be someone better. In fact I am presently serving as a home leader and a role model, and applying for the post of head boy. We are an authentic family, and we preach against violence and help young girls gain an education and believe that they too can climb up the ladder. I am so proud to be a student that other people now admire.
Alusine Barrie
Almost anything can be possible in EducAid! I grew up as a twin brother of a single parent family (my father was killed in the war) of seven children plus two other children my mother was taking care of. (They also lost their father in the war). Life was hard but our mother strived hard to keep us happy. I sat my N.P.S.E (National Primary School Exams) and passed with flying colours, but my mother could not afford to pay the high school fees. A neighbour volunteered to pay for me for 2 terms, and that way I entered secondary school. Though I was the youngest in the class, I was elected class prefect (monitor). Though I was a hard working student, other children in school laughed at my worn out uniforms (the cloth from which they were made of was of low quality) and rather big boots. This made me sad but I worked hard and I was promoted 7th position in a class of about 70 children to junior secondary school (jss-2). Things were becoming even harder when my other brother and twin sister sat their N.P.S.E and were impatiently waiting to enter secondary school. I heard from a friend heard from a friend that there was a free school called EducAid and he also said I don't even need uniforms! Or even have to worry about books or pens! I couldn't wait to tell my mother the good news. I went home excited, but just as I entered I met my mother declaring, bursting into tears, and blaming herself that she couldn't afford to pay school fees for 7 children. (3 in junior and 2 in senior school). I went close to her and told her that everything would be alright. I told her the news and the next day three of us were admitted into EducAid. This day changed my life forever. I worked hard and I was selected to sit the basic education certificate exams. The results came out and I came first in the whole school! I became a tiny hero and was very happy. Some days passed and Miriam Mason-Sesay took us to Freetown for us to continue our senior school there. This became my home for four years. I was full of joy to go to the city for the first time in my life. It was strange but I had a lot of fun and met and made friends with a lot of people who have all been an important part of my life. I had so much support from my friends, volunteers that came and especially from my teachers. I joined the school's senior prefect's team and held a lot of positions. Between 2011 and 2012, I was elected head-boy (president) of the school. This was a big responsibility but I tried (with my cabinet) hard and was able to keep the school under good control. At the end of our senior school in 2012 I together with some friends co-founded the 'Up-Space Guyz' club and I was elected president of this club. The point of the club was to motivate our members to be good citizens, serious in our studies and with good values. Up to date we have been keeping it alive through regular meetings with good support from Miriam.
After my senior school exams in 2012, I volunteered to become a junior staff in the primary school in Maronka. I am happy to be close to my family once again and still be with some of my friends from secondary school as junior teachers. Miriam has enrolled us in the distance higher teacher-training course in the Port Loko Teachers College. I am studying mathematics there. I am also coordinating the Quality Enhancement Programme (QEPM) which is a programme supporting primary schools by engaging with the whole school and providing tailored training sessions to teachers from these schools. I am also studying French and Miriam, her son Kofi, and Ann Beatty have been giving me great support. I am also learning to play the guitar. I wanted to share these ideas with the younger children and so I have just recently organized the Maronka Guitar Club and the Maronka French Club. They are both going well and I am looking out for more support for teaching and learning materials to help me improve my work with these children.
I was destined to be a failure. EducAid took me and made me realize my potential and has always inspired me to believe that I am capable of becoming a better person. Thank you all for helping me become the man I am.
Balkisa Sannoh

'My life before and now with EducAid.
My pre-EducAid life was scattered and battered, with no one to advise or help me.
In 1994, at age 12, I was promoted to secondary school but then my parents couldn't afford to fund my schooling. Due to that I had to wait another year at home, until one day, my first cousin went to my parents to ask my parents to let me stay with her at home so as to help me back to school.
My parents were glad at the offer little did it occur to them that she may have a negative plan for me. She took me to the village to do street trading for her.
For three years, I was in that village all by myself suffering with no idea of her whereabouts. If it was not for God's protection, I would have lost my life to the rebels in the war.
One day during the rebel war, my uncle travelled to the village and took me to Freetown. I had to re-sit the NPSE and consequently got promoted to SSS 2. The only helping hand I had, my uncle, fell seriously ill. With no other guide and aid, I became pregnant and dropped out of school again.
It was during my pregnancy that I came across a girl who told me about EducAid and it's support to girls. I became curious to know more. I was directed to the location of the school in Freetown. Within one year of giving birth to a baby girl, I started with EducAid in 2006. It was not cozy for me at that time but the teachers there by then were like parents to me with their encouraging advice.
I eventually sat the Wassce with the help of EducAid and mother Miriam and donors. I am now a graduate, a div 2 HTC secondary holder from PLTC and a teacher at the Women's project in EducAid Rolal secondary school. I also teach Business studies in the Junior Secondary School as I specialised in that.
I am really proud of myself and EducAid for turning my life around.
Haja Hajwan Gbla

My name is Haja Hajwan Gbla. Before taking my BECE Exams I was seriously sick and that led to loss of my sight. It was a big problem in my family especially my mother. She cried for me all the time and spent a lot of money just for me to regain my sight. My mother and my elder sisters had to fight and took me to different hospitals in Freetown, Makeni, Lunsar, Lungi, and to some of the villages around. They succeeded and in the end, I was able to take some of the papers that remained for the BECE exam in that year.
Just after that, my mother was thinking how to get me back to school, because I was still on my treatment without any money to get back to the private school I wanted to attend. Private schools give better quality education and because my mother was a very strong and hard working woman, she wanted all of her children to go to school. She cried and told me there was no way for me to go to the private school I wanted because the fees were very expensive, and there was no one to help her because my father had passed away. Luckily my grandma found this wonderful school called EducAid which is a private school and free. When she told my mother about the school Mum said there was no money to pay for me in the school. My grandma said she did not need to pay anything; she said that all that is needed as fees were Excellent attendance, Excellent effort and Excellent behaviour. Mum said thanks; 'Haja, you have all the qualities needed to get to this school. Now God has made it possible for you, you can now go to school while you are taking your treatment, go safely. Be a good girl, work hard, listen to what ever you teachers says and obey them, so you can help yourself and be somebody in the future.' That was the advice given by my mother.
At first I found EducAid very difficult to start with; their ways of independent learning and study time but there were some good teachers and students that counselled and talked to me that if I stayed and work hard I could be a strong student. I decided to stay, and I sat lots of my unit tests, completed my targets, sat to WASSCE and I am a presently a junior teacher at EducAid, Lumley and I am doing my teacher training course. Now I am saying thanks to all of the teachers at Lumley and our country director. I am very happy to be with EducAid and also to be part of the EducAid family. EducAid have brought big changes in my life.
Mohammed Cobra Bangura

MY LIFE HISTORY
My name is Mohammed Cobra Bangura. I was born on 12th July, 1992. I am 22 years old. I am the second youngest of six children in my family. My life started with bitterness and sorrow because I lost my dad when I was just a child, nearly at the age of 6 yrs. As a result, I was separated from my mum and sent to live with my aunt in the village. A village which is five miles away from the big town. It is in this village that I learnt so many things but which are not school related things. I lived here for some time until later when my cousin who was living in the big town decided to bring me to town so that I can start going to school. Thank God he was so kind and generous to me. Hence, he found a school for me as he had promised my aunt. But yet again, there were challenges at school which I found to be difficult for me to withstand. They are not financial problems: problems like understanding the language especially Krio one of the local languages not to talk of English the official language. But it was not too long before I started to talk and understand both languages. With patience and commitment, I was able to go through the National Primary School Examination (NPSE) where I obtained a good grade, which can be accepted in any school across Sierra Leone. But before that the business, which my cousin was doing had to stop due to one reason or another. And as a result, I had to wait for some time to get back to school but because I loved and wanted to go to school I decided to embark on trading as a way of getting money for me to go back to school. I was able to get enough after a couple of months that can take me through the academic year.
Upon completing my primary schooling, my cousin told me I should wait for a while as he was not financially strong. I decided to wait as I had no other alternative. But by the time the academic year started I heard about EducAid and told my cousin about it and my plans to attend there as there was no other way of him getting money to pay my school charges. He was also happy to hear the great news and decided to take me to the school at once for registration. Life in EducAid at first was not easy due to the system of learning it was operating in, so I almost stepped down, but I soon became confident with the system. Due to this, I became friendly with the school. With this, I spent only a year and then sat to the Basic Education Certificate Examination (BECE) the following year. In plain terms, I spent two years in the junior secondary school, instead of the usual three. I continued my studies to the senior secondary school at Lumley, Freetown where I also spent two years and sat to the WASSCE exams in 2009. After taking this exams I joined the EducAid staff but as a junior and volunteer staff in the primary school in Maronka where I am currently working. I have just completed the Higher Teachers' Certificate (DHTC) course and presently I am the site coordinator of the primary school. I enjoy training other teachers from across Sierra Leone in our teacher training programme too. All this is happening because of the holistic education that I have got from EducAid. A big thank you to all those who in one way or the other are supporting this organisation, especially to the country director Miriam Mason-Sesay.
Musa Koroma

Life before EducAid was difficult after leaving Bo School as a result of not being able to afford the boarding and tuition fees.  I went to several old students of the school for help with my progress report in the school but none of them could help. My parents were far off, living in the east of the country in Kailahun. My father, a coffee and cacao farmer was unable to offer his usual support to my schooling. I decided to leave Bo school to look for something else I can do to keep life going. I told a friend with whom I had been in the same class in Bo school, but he was from Freetown. He told me to call his mother and explain the issue to her and I did. She called me to Freetown so that I could start teaching her kids at home whilst staying with them at the Goderich area. I taught the kids for months but she never told me how she was going to help me out with my situation.
One day I was walking along Regent Road and I saw students without uniform and I asked one of them whether they were university students, they told me that they weren't but that they were students of EducAid Sierra Leone. One was so bold and told me all the details about how the school operates and what are their fees. I came to the school the next day to see and met some of the staff. I explained myself and they told me I was the type of young person the school is looking for. That moment was the most exciting moment ever in my life. The admissions teacher then told me to come the next day to sit to an entrance exam in English and maths. I came the next day very early and he met me at the gate. He called me to follow him inside. I was given the tests and there I was able to impress him and the other teachers too. He then introduced me to Miriam who was very happy. They told me to start schooling the next day. By then I had already left the home of my friend's mother and I was staying with another friend who was also a student of EducAid name Mike Pessima. I was able to feed myself and my friend out of the little I was earning from teaching maths, physics and a bit of chemistry. I then decided to leave Pessima to stay in the school as I was finding it very hard to study at night. I then asked my tutor master whether he could help by telling Miriam of my stay in the school as a homeboy. The late SSS Dem was good and he did. Life was challenging but the time with friends was inspiring to move ahead and always yearn for the best of my imagination. I sat to the West African Senior School Certificate Examination (WASSCE) in 2008 with one of the best results ever the school had produced. I was then sent to one of the branches of the school to teach electronics, science, maths and physics in Rolal. I was in Rolal when I heard that my Father had died, then a colleague of mine name Balla (now in Venezuela) told me "Musa, it is time to take things into your own hands and remember death comes for everyone. Not even kings are exceptions to that". These words were golden and full of inspiration and they gave me heart and courage too. I then knew the world is mine and the people around me are now my family: The EducAid family.
I was given sponsorship to study engineering at the university of Sierra Leone by the Vincent family staying in Great Britain through EducAid. I started my course and I did enjoy a bit of that too. In my second semester at the university I was then called by the WASSCE body to apply for scholarship to study in the former Soviet Union, Russia. We did and I was called for interview. It was then again I knew I have joined a great family, the EducAid family. The family sponsored me on all affairs that were surrounding the success of my travel to Russia. I came to Russia in 2010 to study engineering which meant leaving Fourah Bay College. On my arrival in Russia it was snowing as it rains in Sierra Leone in August. I was sent to high school again to learn the language and sit to their university entrance exams. I spent a year with a group of students from all over the world in different colours and cultures. Then I knew again education is the key. It was hard for us at the start with the language and the people too. Some returned to their homes and others left for other places, but we stayed. I entered the Russian State University of Architecture and Civil Engineering in 2011 as the only black student in my class and the only Sierra Leonean in that state of Russia. It is a difficult place to be and there are few who think about the feelings of others who are not like them. Now I'm in year 3 of Civil Engineering and Architecture (I will major in civil engineering). This is how far we have come and how far EducAid has taken us. It's not easy but we can't give up and we are still trying harder. The Vincent Family continue to support me and they are a part of EducAid and I'm part of the family now too.
Augustine Bundor

MY STORY
My name is Augustine Nyuma Bundor, born in Kailahun district, Eastern province of Sierra Leone. I was born in a polygamous home of three wives to my father, each bearing him four children and I am the 3rd child to my mother.
The family depends solely on subsistence farming. With the exception of myself and my younger brother, neither the parents nor the other siblings are educated.
During the rebel war in 1991, we all flew to a neighbouring country (Guinea) where we stayed in refugee camps for 8 years. I attended refugee schools in various camps when I partially abandoned my family by ignoring their faming habit. I hated going to the farms all the time.
I then decided to return to Sierra Leone and stay with an uncle in the city (Freetown) with whom one of my siblings was staying. I was luckily voluntarily repatriated to Freetown and I found my uncle and brother. The uncle denied my staying with him. My brother took me to his single room where he lived with his wife and child, wanting me to be cleaning and laundering for the family.
I spent a year and more with this brother, convincing him to support my schooling as he was a taxi driver. He too denied helping me so I left him and joined a local building and construction enterprise so that I could at least learn a trade.
Having given up hope for my schooling, I chose to become either a welder or an electrician. The enterprise was just newly formed with a single store for tools and equipment. Me and my other colleagues spent 2 years in this centre sleeping outside on cardboards and old non-functioning refrigerators.
One day I met with a teacher from an English-based charity school (EducAid Sierra Leone) and explained to him my stories. He kindly took me to the school and helped me gain admission as a junior secondary student.
In 2003, I became a student of EducAid Sierra Leone. In this same academic year I sat to the Basic Education Certificate Examination (BECE) conducted by the West African Examination Council (WAEC). I passed with flying colours and was promoted to the senior secondary level.
With my basic knowledge in welding and electrical installations, I developed great interest for the sciences and became a science student.
It was quite challenging for me because I had to attend classes till 3 pm and after which I went to my work place (at the workshop) and worked almost throughout the night. I then decided to forgo the workshop and concentrate on my studies. I then joined the other home students and became a home boy, living in the school, in the classrooms. From then I became wholly dependent on EducAid. I was one of the boarding students throughout my junior and senior secondary levels (from 2003 to 2006).
In 2006, I sat to the West African Secondary Schools Certificate Examination (WASSCE) also conducted by WAEC. I passed all the subjects with university requirements in all the sciences. I was asked by the country director (Miriam Mason-Sesay) and her late husband (Mr Alhassan Sesay) to assist in the teaching.
I was very happy to be taken as a junior staff having been one of the students of the school. I was sent to one of the provincial branches (EducAid Rolal) where I spent two years teaching junior secondary school sciences.
EducAid finally surprised me with a sponsor (Ann Beatty) in 2008 to further my studies in any of the sciences. I decided to study medicine and become a medical doctor because of the love and concern for humans I developed over the two years of teaching, and more importantly because of the poor medical services and few health practitioners in the country.
I then gained admission in the one and only school of medicine in Sierra Leone, College of Medicine and Allied Health Sciences (COMAHS) to undertake an eight (8) year course.
With focus, commitment, hard work, endurance and perseverance, I have been successfully going through all the academic years form basic to clinical medicine.
Currently I am in the 6th year and hopefully by 2016, I will be a graduate medical doctor.
GOLDEN THANKS AND APPRECIATIONS TO MY SPONSOR (Ann Beatty), THE COUNTRY DIRECTOR (Miriam Mason-Sesay), AND TO EDUCAID AS A WHOLE FOR THEIR KIND COLLECTIVE ROLE IN EDUCATING ME TO THIS LEVEL. EVERYTHING BEGINS AT A POINT…
Ishamail Bai Bundu 'Carrick'

My name is Ishmail Bai Bundu, but I am popularly known as Carrick.
Before joining EducAid I was just another boy who could not continue his education because my parents could not afford to pay my school fees. My father had 26 children, and could not take care of us all. Therefore he was just trying his best for us to complete primary schooling. There was no way to continue secondary or tertiary level education. Luckily, my father met Miriam, who is the country director of EducAid and since then almost everyone in the family is attending EducAid and some of us have gone through secondary and are now doing tertiary education through Miriam and EducAid's help. Before joining EducAid, I used to be very naughty to everyone, always in a fight or destroying people's properties and stealing.
Finally, since I have been in EducAid for the past five years, everything has changed. I have gone through my secondary education successfully and am now doing a teacher training course in a tertiary institution. I have now got responsibilities and duties to perform to other as I am presently serving as a staff at EducAid. I teach as well as running the agriculture project with farms on three school sites. My life is completely changed from nothing to something. I now have dreams and a future. It is because of EducAid, I am now who I am: A role model (A positive, hardworking and peaceful citizen).
Thanks
Carrick