We want to thank those who are able to so generously donate their time and energy to make EducAid's activities in Sierra Leone possible.
We've had some amazing people volunteer for us over the years, and they are all part of the collective EducAid family. We're always on the lookout for more enthusiastic people to come and help us out – there are a multitude of things that you can get involved in, whether you want to do it by fundraising from home, partnering a school or volunteering out in Sierra Leone, we will always be able to find a space that's perfect for you.
Read a bit about how other people have found their time out in Sierra Leone, and follow the links to see how else you might get involved.
If you have photos of something you have done for EducAid please do forward them to Miriam. We would love to see them and you may inspire others to follow suit!

Pete Simpson
My EducAid Experience
Earlier this year, I chose to support children out in Sierra Leone by helping out with the charity EducAid.
I funded the trip myself, but also raised just under £1,000 from friends and customers in order to purchase teaching equipment. My challenge was to go to the EducAid primary school in the village of Maronka and teach the kids all about electricity and electronics.
The trip was a real eye-opener. Firstly the kids were so keen to learn – something not always experienced here in the UK, but then education is one of the real hopes they have to get out of poverty and into paid work. That said, unemployment in Sierra Leone is extremely high and so we can only hope that our efforts result in more than just paid work. In fact that is what fascinates me about the charity EducAid. Its mission is not just about educating the kids, but it's also about giving them confidence and a voice to be able to stand up against many of the difficult situations which Sierra Leoneans face – the biggest of which unfortunately is corruption.
I was fortunate enough in my time there to teach not only at the primary school but also at two secondary schools – one in Rolal and the other in the capital Freetown. In the secondary schools I taught the equivalent of GCSE classes who were soon to take an electronics exam. They knew the theory really well, but had never seen electronics equipment, so the practical workshops I delivered for them were invaluable.
What I found incredible was that all of the secondary school kids and their teachers had been through the brutal civil war which ended in 2002. Their resolve was amazing and they all seemed so happy, although I often thought that the war must have inflicted some extremely bad memories and hurt for many of them.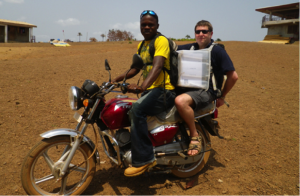 Transport between schools was interesting, having to travel by motorbike with the equipment some two hours between schools in the searing heat and often on dusty tracks and indeed without helmets. Lucky that I'm an off-road motorcycling enthusiast!
I was so fortunate also made Guest of Honour at the primary school sports in Maronka. The sports days are a big thing in Sierra Leone with people walking miles from surrounding villages to watch. They last two days (Friday and Saturday), and I had to make a speech and issue the trophies to the winning teams along with the chief of the village.
It was a fantastic experience and hopefully I'll be back in Sierra Leone next year. The teaching was really rewarding, although I have to admit that living out in the bush in the dry season was a bit of a challenge. With limited water, washing consisted of six mugs of water each morning, which was bliss! The remaining water being used for drinking. Even though I was only there for eleven days I really felt that I'd helped make a difference to the kids, and I've left the equipment in Freetown along with workbooks for other volunteers and local teachers to continue the great work.
Pete Simpson, Managing Director of Amphigean
Bill and Daphne Morris
Loos, Laughter and Lessons at Maronka
We offered our services to Maronka Primary School for a week last October and arrived at Lungi airport with 10 suitcases of secondhand school uniform. Miriam met us, transported us and settled us into her 'home' at the school then left for a multitude of pressing duties and fundraising activities in the UK. We were welcomed by staff and children alike and all our needs were met by numerous caring kids, who were prepared to share everything they had.
Yes, life there is more primitive than in Somerset – all water has to be carried on someone's head from the well, cassava and rice are cooked in huge cauldrons under a thatched shelter, the electric generator may or may not be active between 7 p.m. and 10 p.m. and the long drop is a 5 minute walk from your room. BUT the children are super friendly and beautifully behaved and the staff are well motivated and hard working but always prepared for new ideas or help and advice.
Bill's tasks for the week included making a concrete plinth for the boys' new loo, hanging tyres in trees for swings and creating an outdoor chess board. I helped in the classrooms during the day and worked with staff in the evenings on different approaches to the teaching of numeracy. We had a lot of fun and learnt that good education can be achieved despite the almost complete lack of equipment that schools here in England consider essential. In Sierra Leone children are desperate to learn and it is truly humbling to see how hard they are prepared to work when their lives are extremely hard and they have so little.
If you need to get away from it all and be inspired – go to Maronka!
Daphne Morris (retired teacher and special needs specialist). 2013.

Emily Somerville
One of the highlights for me living in Sierra Leone was being completely surrounded by a foreign culture. At first finding it incredibly alienating and then realising how welcoming and based on love it is as I built up relationships slowly and learnt about people. Students and staff were very welcoming and curious about my culture, and it was interesting to compare it to theirs. I was inspired by how hard people worked, and how committed the staff were to the students. The school really did feel like a family.
The teaching could be challenging at times but was also very rewarding. I most enjoyed getting to know my classes and building a relationship with them. The more time, effort and energy I invested the more I enjoyed it. Seeing the kids develop their creativity and begin opening up in class, raising their hand more and making contributions was very exciting. I was inspired by how hard the children worked despite huge obstacles. Some had a total lack of support from home and very low self confidence as well as living in extreme poverty. Witnessing the change they made in the face of this, through a desire to learn, has inspired me to become a teacher in the future.
Emily Somerville (20). Student. 2014.
Pat Horn
In my working life I was a teacher and have twice visited Educaid as a volunteer. I was able to work with the teachers and students in the classrooms. I was able to join in the Staff briefings held each morning and so became familiar with what the staff intended to achieve and how they intended to work. I was able to work with teachers, both in the classrooms and in discussions out of school time, and, together, we examined current practice and developed ideas as to how it could be improved. I was able to work with the students and support their learning in lessons. I was also able to support students in their personal study time in the evenings between 7 and 9 pm when the generators was on and some light was provided. This was difficult as in the buildings, very often, there was very poor lighting, but if we worked outside, such as at Rolal, I was bitten by bugs !!
John, a friend, came with me on my first visit and together with the staff and learners, he produced a play in each of the schools we visited. The effort and involvement of the staff and learners were very impressive – they were all very keen – and the acting, speaking and dressing up were all superb and led to excellent performances.
On my second visit I was able to work with teachers in developing a phonics approach to the teaching of reading – the Oxford University Press had supported Educaid by giving a generous discount in the purchasing of a phonics programme. It was particularly rewarding to be able to work with staff and students in the Womens' Projects, where older girls, who have missed out on their early education, are supported in reading, writing and mathematics in order to be able to join in classes in the Main School.
It is great to be able to think that as a volunteer I played a tiny, tiny, part in enabling Educaid to achieve such excellent results in the National Public Examinations. Educaid is well worth supporting with time, effort and money – we all have something to give – think about it !!!
Patrick Horn (75) Former Headmaster, Special Needs Teacher and Advisor, Schools Inspector. 2013.
James Burnford
EducAid is progression. When the first EducAid school started in 2000 it was ten pupils on the veranda of a borrowed house; fast-forward less than 14 years and it's thousands of pupils across nine schools that have consistently outperformed all other schools in the country.
Each time I have been out there the first thing that has struck me is how much bigger everything is: The school buildings and facilities grow enormously each year; the teaching staff expands; the curriculum evolves. It is in the nature of EducAid, and those at its helm, to constantly be looking to develop and it shows more than anything that the support given to the charity is put to rapid and immensely productive use.
It was a huge accomplishment to complete the senior secondary school in Rolal in 2011 and I had the great privilege of working there this summer. The buzz in and around the school was inspiring.
Yet not even three years on and already there are whispers of an EducAid institution that will offer degree level qualifications! EducAid would provide a system that guides those in the most precarious of situations right the way through their education, from their very first words to their honours degree.
The journey EducAid is on is a very exciting, fast paced one. As with every journey EducAid will experience, and has experienced, tough challenges but I am confident that it will continue to pursue positive change and progression with such aggression that nothing will stand in its way for long. I can't wait to see where it ends up and I want to be part of it!
James Burnford (24) English Teacher. 2013.
Polly Wilson
Originally I came to EducAid for a 3 month trip, to work on the Women's Project and do art. I was based in Rolal, the largest school with the oldest students. I was received with warmth and love. Both students and teachers had tough stories to hear, and the extent of their hurdles was almost impossible to relate to but they were there, serving, smiling and learning.
The selflessness of every teacher's life was incredible. EducAid is more than a school. It's a family. The teachers were mothers and fathers to every student. They had worked out such effective systems of care, which worked because of the love, dedication and teamwork. The school helps so many with so little. The love EducAid holds deep within the troubles of its country is incredible. Working with such an incredible hardworking team was so inspiring, so I came back for 6 more months.
EducAid is full of committed teachers who understand what they are teaching. I heard many appalling stories about Sierra Leonean schools: absence of teachers in class, unqualified staff, corrupt ways to pass exams and much more. The truth of these stories was confirmed when I began to visit different government schools around the country. I was shocked by how little anyone seemed to care for the students of Sierra Leone. It was then I truly realised just how much the EducAid had achieved. Getting the best results in the country had been achieved through, quality, hard work, aspirations and good will.
In many places I went to in Sierra Leone I would see teenagers and children on the streets working during school time. I and the teachers would often ask them why they weren't in school. Many of the girls had never been, and the boy's had either turned to street crime or had to drop out for financial reasons. It was incredible that with one invitation to EducAid their lives could be transformed. And so they were. So many students had not only changed their attitude to education through EducAid but to life, and been transformed from street kids with hopeless lives to good young people with hopes and dreams.
Sadly, however as time went on, during my visit, the need for more supplies and materials was exceeding the budget limits. We could no longer invite those who so needed us to join the school. We were even having to reject some that came looking for a place at school as we no longer had the financial means to continue admissions. I made a promise to myself I would do anything possible to raise money for the young people in Sierra Leone who were missing the amazing opportunity EducAid gives to so many children because of lack of funds. EducAid take people into a family of education, love and hope and I am so proud to be part of such an incredible organisation.
Polly Wilson (20). Student. 2014.
Rajasree Roy
EducAid Sierra Leone – Diamonds in the Sky
SUNDAY, JUNE 14, 2009: 3 AM
Josh and I have been flipping through the village handbook for several hours now. Time elapsed: 2.5 hours. Symptoms: Headache, throbbing heart pain, 104ºF+ fever, vomiting, and yellowish skin. Rheumatic fever, malaria, tonsillitis….hmm, his best friend died three weeks ago from abnormal symptoms of tuberculosis…could it be that? James went back up the hill to call his dad, who is a GP, for advice. Harriet is putting wet cloths on his head to bring down the high fever. Even the headmaster is hoping that we can save him. But we are not doctors. What can we do? Yeah, we can check his temperature, give him some Paracetamol, and hope for the best. With no trained doctor at hand, what else can we do? The children are scrambling here and there to help in any way that they can, reluctant to lose yet another one of their companions. After all, he is one of them, one of the glimpses of hope for the future of Sierra Leone.
This past summer was perhaps the most eye-opening, life-changing, and phenomenal experiences of my life. It put a lot of things into perspective for me and has driven me to pursue my passions. I volunteered with the EducAid Sierra Leone Organisation, a British founded establishment which provides secondary school education free of cost to the children of Sierra Leone. Since primary school education is free throughout the country, EducAid helps bridge the gap and continue the education of those who are unprivileged by establishing schools throughout the nation. The annual cost of secondary school fees in Sierra Leone is 60 USD per student, which is more than most teenagers there can afford. Although Sierra Leone's devastating civil war left the country in physical ruins, the empowering human spirit and inspiring optimism of the people give the nation a tremendous beauty that this world bequeaths only to those who have known great suffering.
These schools consist of three types of students: village kids who live nearby, homegirls/homeboys who are from distant villages but are staying at the school to get an education, and orphans who have lost everything but are holding onto this last trace of hope for a better future. The charisma and determination in these students are mind-blowing. When I arrived in Sierra Leone my first night, I was taken to the headquarters in Lumley, Freetown. This is the bungalow of the director of EducAid, Miriam Mason-Sesay, an amazing woman who has allowed her home to become the learning institution for thousands of children around the country. Once students are promoted from their respective village schools, they come to Freetown to further advance their education. After they fully graduate from secondary school, EducAid tries to find them sponsors from abroad to help fund their college education for higher studies. In the meantime, many of these students give back to the system by working as teachers themselves for the village schools.
The first couple of scenes as I walked through the many stories of the school in the dark of the night gave me a realistic view of how dedicated these kids are to make the most of these opportunities. What I thought were pieces of furniture from the shadows, were actually rows and rows of children peacefully sleeping through the night, on and under tables, beside bookshelves, basically anywhere they could fit. They took on innocent fetal positions as they lay next to each other in a basic happiness that I tried so hard to take in and understand. After spending the first night there, I realized in the morning that these various tables and bookshelves were actually those of the classroom. Each floor was a huge classroom that was quickly transformed many times of the day to fit the needs of that time. It was a study space in the mornings, a cafeteria in the afternoons, a playground in the evenings and a bedroom dormitory at night. Still, these kids were so content with what they had. This setup mirrored the system that I soon encountered in Magbeni, a village three hours away from the Freetown headquarters, a place that would soon become my home for the next six weeks.
The road to Magbeni foreshadowed the striking beauty of the village. As we drove further and further away from the congestion of Freetown, I was entranced by the lush green rainforest on either side. When we passed by the three villages that preceded Magbeni, children ran outside to yell out "Opotu" which I later found out to mean "white man". The British girl who was accompanying me, Harriet, yelled back "Owunibee" with a smile. This, she told me, meant "black man". I was initially shocked at this blatant racialization, but soon realised that the exchange was pure and simple, without any malicious intent involved. These children were simply excited to shout out what they saw. If they saw someone that was lighter skinned and not of their skin color, they assumed they were a "white man". They also took no offense when someone called them "black man" because they embraced this factual description. Rather than being an aggressive verbal exchange, it was, if anything, naïve. As for me, I was still a "white man" to them until the very end in which some of them started finally describing me as "copper-colored".
The reception to Magbeni was very warm. I was the last of the five teachers to come and the village welcomed me with open arms. They immediately started offering me foods and goods that they thought would make me comfortable. Village kids in class and out were scrambling to take a glimpse of me and you could hear giggles and see the excitement and curiosity in their eyes everywhere you looked. There was no time to waste. We immediately joined the morning staff meeting and our work began.
Although I was engaged in a plethora of projects throughout my stay there, I was mainly involved in the Health Education Program. I taught all of the students and teachers/staff alike the importance of taking care of their health and others. In a place where there is no electricity, clean running water, or access to a medical facility, education on various health topics goes a long way. By the end of my time there, all students were better informed about sanitation, CPR, first aid procedures, and various diseases that plague the area. Being a part of this program gave me the good fortune to interact intimately with each and every staff member and student in the village. Each class met with me twice a week as they rotated lessons. Since school hours were from 8 am to 3 pm, I met with staff members after school to teach them similar lessons. If there was a free period in the day, I'd help tutor Red and Blue Group 1 students (those who were preparing for their promotion examinations) in mathematics and English.
The variegated experiences that I had accumulated in the past greatly helped me in being productive and engaging in the community. I had spent the previous summer teaching at a village school in Kolkata, India. Although the material and the teaching style involved were somewhat similar, the circumstances were greatly different. I did not have to overcome a language and cultural barrier in India, but had to quickly adjust to the cultural norms in Sierra Leone. To be honest, it wasn't such a struggle acclimating to Magbeni. In fact, much of the Indian and African cultural norms were very similar. As soon as I got over the language barrier by learning the basics and emphasizing more hand gestures, communication became easier.
My Resident Advisor role at Duke also enabled me to mentor many of the girls in the Women's Project. This is a special program in which women who had not had an earlier education were given the chance to catch up and join the rest of their peers. Although I was dealing with secondary school education, the students at the school ranged from the ages of ten through twenty-five, all in different stages of their education and development. These young ladies from the Women's Project came from different backgrounds and were talented and knowledgeable in so many ways. Although they were behind in academics due to their special circumstances, they were far ahead of any of us Westerners if you closely looked at survival skills. They cooked for the school, did laundry, cleaned the compounds, and provided musical entertainment for each other. All the students, with boys included, were self-sufficient. They were able to take care of themselves with scarce resources, something even many "educated" individuals would have difficulty with if they were stripped of all of their amenities. It was interesting mentoring these individuals and opening up their mindsets to the world around them. It was necessary to challenge their beliefs and encourage discussions in order to initiate self-discovery.
Apart from academics, it was equally fulfilling to introduce them to various forms of art appreciation as well. We hosted many talent shows, drawing competitions, drama club presentations and debate tournaments to enrich these other facets of intellectual enrichment. Although many of them were already involved in music and sports-related activities, they did not appreciate these passions as talent and as part of their self-value. Instead, they looked at these as trivial pastimes. Teaching them to appreciate various forms of their own talent, apart from academics, allowed us a facet to be a part of opening up their minds and encouraging creativity. It was extremely encouraging to have curious students who were always interested in learning more. Granted, many of them did not want to study all the time and preferred to play, but if once they received encouragement to focus on alternative activities, it was clear that these students had a lot of potential and that many of them had a lot to say. It was evident that many of my students had started to attribute intrinsic value to their academic and artistic pursuits.
My time in Magbeni was very fulfilling because I was able to completely immerse myself into the culture and environment. I was with these children 24/7, eating, sleeping, playing, cleaning, sharing and living with them. We went on adventures together, competing in river races, plucking juicy mangoes from trees of the neighboring chiefdom, and watching Bollywood and Nigerian movies when we had the generator running for some days of the week. They liked braiding my long Indian hair and I loved helping (or trying to help) them cook. We often had musical jam sessions in which we sang and danced to various Indian, African, British, and American tunes. My African dancing courses at Duke helped me synchronise my body only a little bit with them, for most of the women there had amazing dancing abilities. It was also a lot of fun hearing them trying to sing Indian Bollywood songs, which were actually very much in tune. It wasn't long before we became a part of one big family.
All in all, this experience was amazing. I've always been interested in becoming a part of Doctors Without Borders in the future, but after this exposure, I know for a fact that this is what I want to do for a living. Comparing this adventure with a paediatric shadowing experience I had soon after Sierra Leone, I know that an 8-5 office workday is not what excites me. Instead of being restricted by four walls, I want to be out there in communities such as this, helping the population and providing resources in forms of education so that the future of the country lies in the hands of its children and not in foreign establishments. Education is the primary way of making Sierra Leone and any country for that matter a truly independent and successful nation. For example, while we were in the village, there was only one nurse within two hours of Magbeni. Even then, she was really a witch doctor. For 30,000 inhabitants of the country, there is only one professional doctor. With these kinds of statistics and severity of the conditions around the world, I know my purpose. In guiding these children, I feel as if I'm fulfilling my mission, one child at a time.
When I first landed in Sierra Leone, enormous diamonds immediately caught my eye. They were in the sky. They were the stars. I have never seen such an amazing site in my life. It was as if someone had shattered glass on a black tiled floor. The children of this beautiful country are like these stars. No matter what goes on beneath them, they continue to shine brightly. Dedicated. Determined.