Building Community Resilience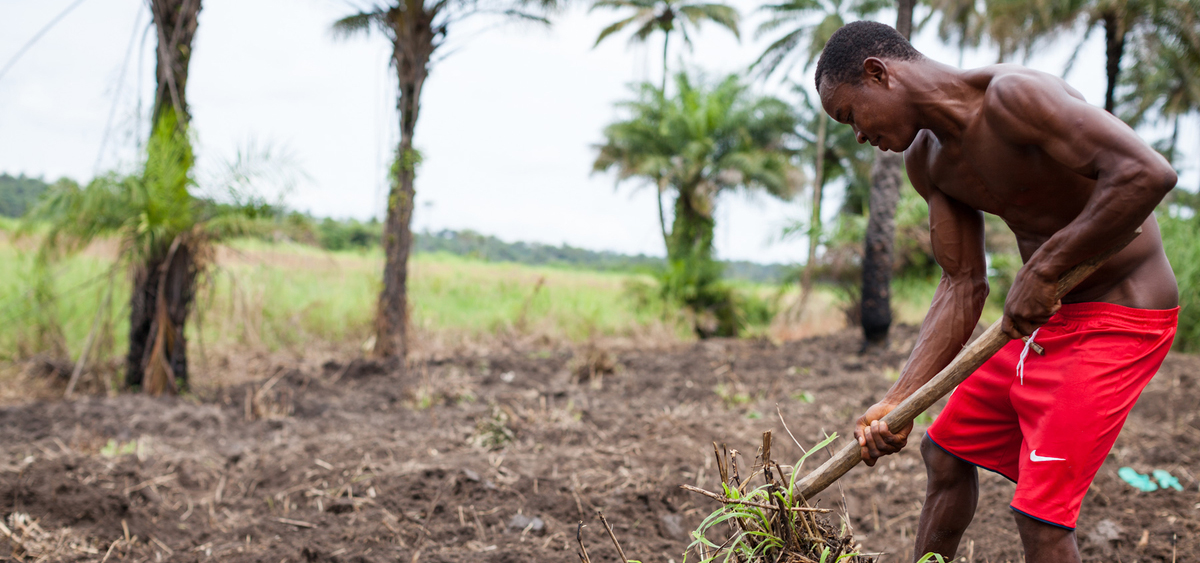 Education has the ability to transform whole communities, both through regular interaction between the school staff, students and local community, as well as the natural spread of education through the population. The levels of basic education are often so low in rural parts of this country that it impacts on a vast range of social issues. Attitudes towards health, disability and equality are often destructive, and can cause major problems to those affected. We saw this no more clearly than during the recent Ebola outbreak, one that claimed over 10,000 lives in Western Africa. Many communities are ill prepared to combat a health epidemic, particularly one as easily transmissible and destructive as Ebola. This is exactly the kind of community resilience that we would like to help develop, and we believe that through education it is possible.
It is vital to EducAid that we are working with engaged and participatory communities; in fact, it is the key factor in deciding where our next strategic move will go. There is always a need in rural Sierra Leone, but if the community is not actively participating in our programmes, we will not shoulder the whole responsibility to bring the education.
Building Community Resilience in our Schools
Our work at building community resilience starts with a purely operational need: maintaining good relations with the community is of the utmost importance to the attendance, effort, and behaviour of the students, as well as their welfare. If the community surrounding the school are not engaged, there are many risks to delivering high quality education for our students. Before EducAid moves in to an area we will have several meetings with the community to ensure that they are fully committed to bringing education to their villages. Oftentimes this will not just be a verbal assurance that the community will support education in their area, but a transactional one: 8 of our school sites have actually been gifted to EducAid by the communities that we work in.
Communication, communication, communication
Every term, each of our Site Coordinators organises a meeting with community members to discuss any matters relating to the school, the students, or the impact of the school on the community. These meetings are essential to praise positives from the term, and to raise and address any frustrations that either party might have. Each term they will draw up action points to resolve any issues, and review the action points from the previous term meeting.
Think for the future, not just tomorrow
For many families, even the youngest are vitally important to subsisting in Sierra Leone. Many children work in agriculture, in mining, in street vending and in other informal industries. Taking a young person from the family is a sacrifice that the family must make willingly; before they make that sacrifice they must understand the implications and the benefits. We see situations, over and over again, where young people are not permitted to join EducAid because they are needed to work the land or raise money for their family. It is exactly this short-term thinking that we work to overcome, and the presence of both EducAid and our educated students help to break through this frame of mind.
A trusted voice in times of crisis
During the Ebola outbreak in 2014 and 2015, EducAid was at the front foot of working with our communities to ensure that they stayed safe. We were involved in briefings with local and regional task forces and developed an Ebola sensitisation programme, working with surrounding communities to ensure that people in those communities understood the principles of staying safe. Despite an awful lot of misinformation in Sierra Leone at that chaotic time, our communities viewed EducAid as a trusted partner, and responded to our message positively.
---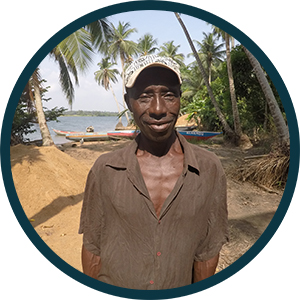 Senior Home Boy – A Case Study
There is man in Magbeni who is known simply as 'Senior Home Boy'. EducAid students fall in to two categories: day students who travel for their schooling, and home students who are residential. Senior Home Boy is neither; he is a Magbeni community member who truly values the work of EducAid.
Senior Home Boy has single-handedly built several of our school buildings, having acquired donations of materials and building sand from the community. He never expects pay: he knows that EducAid is providing a huge opportunity to the young people of his community. Even more amazing than his generosity, Senior Home Boy has no children of his own – this is an entirely selfless act of generosity. Senior Home Boy represents the kind of community engagement that we aspire to within all of our communities.
---
Personal sacrifice, shared gain
The level of integration in Magbeni is partly down to it being one of our oldest schools, but we find a similar situation in one of our most recent: Pate Bana Marank opened in January 2015, and it is the engagement with the families that encouraged our partners, Make It Happen, to build in that area. Watch the video below to find out more:
We often see that education filters from students to parents, and the education can seriously impact the community if they are ready to engage with the schools. Unfortunately, there are many communities that do not want to engage. Whilst development is desperately needed in Sierra Leone, there is often a culture of dependency that breeds in recipient countries. Oftentimes, if a programme ends or a school closes, communities will not club together and make the effort to continue the good work that has already been set in place. Often communities are just waiting for the next programme to come along. A vision of education shared between the community and EducAid is what is so unique about many of the schools that we operate; we find ourselves with communities that often work very hard to achieve the same goal. This is no better exemplified than in Magbeni, where staff and communities regularly go beyond the call of duty to ensure proper development of the school and facilities.
Every Voice Counts (EVC)
The EVC is an initiative that we have started within our schools. The objective is to involve all students in the management decisions that go in to running their schools. By involving our students in these decisions, working with staff to identify and resolve issues ranging across pastoral, behavioural and academic areas, they will expect and demand to be involved in decisions that affect them in later life. This initiative was first trialled in 2015, and in rolled out to all schools in 2016. It has shown that there are improvements to policy and management, as well as an improvement in attendance, behaviour and participation.
Demanding to be a part of the democratic process is essential to improving the way that Sierra Leone is governed. Although breaking in to the political elite will be extraordinarily difficult for our students, demanding fair and democratic practices is an essential hurdle that this country will need to overcome to ensure stable development in the future.
Building Community Resilience through the QEP
The Quality Enhancement Programme is gaining momentum, and there is significant interest in joining the programme from many different schools. EducAid runs programmes differently to many other INGOs: we do not spend money on lavish lunches for sessions with head teachers; we do not provide excessive allowances for staff trainee travel; nor do we pay schools to be involved with the QEP programmes. We make sure that our partner schools are engaging with our programme for the correct reasons: to improve the quality of education in their schools, and not as a box-ticking and income-generating scheme. We would prefer to have fewer, engaged schools than a huge number of disengaged schools. This is how we will improve education in this country.
Further than that, we demand that all head teachers attend training as well as their staff. We see head teachers as being pivotal in the process of improvement and, despite some resistance in the early stages, we have over 100 engaged schools working with us. Even though this method of appraisal can be long and tough, we are not prepared to be contributing to another corrupted system in Sierra Leone. This, we believe, shows teachers and head teachers around the country how they should and can be acting, and what values should be passed down to their students.
The QEP, in it's very essence, is designed to build community resilience. It is the primary way that EducAid is sharing it's learning and knowledge throughout Sierra Leone to improve standards for as many students as possible. As Miriam says: "it's not about EducAid being at the top; we want to help bring everyone up with us. That's how we'll get ourselves out of this poverty."
Building Community Resilience through #AfterEbola
The Ebola outbreak was fierce and terrifying for the population of Sierra Leone. There was a palpable fear in the country as people did not know who they could trust. Several reports in the international media identified witch doctors as a major factor in the spread of Ebola; reported attacks on healthcare professionals; families shunning their own children; and many more horrifying stories. To someone not living in this country or understanding its context these reports may sound incredible, but the direct and latent education that the population is exposed to in the UK, or elsewhere in the Western world, has a massive impact. Television programmes that show doctors washing their hands before surgery; anti-bacterial advertisements that visualise the spread of bacteria; basic scientific practicals at school; and regular access to media outlets all educate individuals in the fundamentals of disease and virus transmission. These simply do not exist in Sierra Leone.
Since EducAid staff already held a position of trust and authority in our local communities we felt it was essential for us to intervene where we could. After the first steps of locking down movement in to and out of our schools we set up a community meeting, conducting basic science education and disease transmission prevention classes. We ensured that our communities felt that they could trust our teachings, and therefore could trust the healthcare professionals.
In addition to the community outreach we also wanted to protect those made most vulnerable by the epidemic: those orphaned by the disease. As part of the #AfterEbola programme we brought 100 children, orphaned by Ebola, in to specially set up care centres, staffed by Ebola survivors, and after the quarantine period were brought in to our schools for full pastoral care and school integration.
Building Community Resilience in the PSS
There is a serious problem in Sierra Leone, and one that is incredibly difficult to address. Having suffered such grievous crises over the past 2 decades Sierra Leone has had a very tough time in building its health and educational infrastructure. The amount of aid that has flooded in to the country as a by-product of these crises means that it has become a country dependent on, and in some ways addicted to it. We see this manifest itself in many ways: the most palpable of these is the endless signs that litter the roads, buildings, schools and health centres that name the donor party. Deeper than this though, there is a dangerous societal attitude that has developed: if funding for a school, health centre or other community-focussed project disappears and it closes, our experience tells us that communities may not work together to fill the gap, in the belief that another international organisation will appear to fill the gap. Whilst this may have been the case in the past, this is not a sustainable model for the future of Sierra Leone; development must be driven by the community first.
EducAid Alumni Network
The EducAid Alumni Network (EAN) is a community of current and past pupils of EducAid. The purpose of the group is to provide a network of support for current and past students involved in all areas of life. There are many ways that this network could positively impact its members:
For current students: If one were to ask an EducAid student what they would like to be when they grew up, they could expect to hear a number of common answers: teachers, doctors, lawyers, accountants being among the most common. Having been operating in Sierra Leone for over 25 years we have helped to create a multitude of professionals, many of who might be able to assist our students in achieving their goals.
For recent leavers: For a student leaving EducAid it can be quite a shock to leave an institution that lays such importance on values and anti-corruption behaviour, and to enter a workplace where corruption is rife. We recognise that it can be difficult for these leavers to reconcile their own intentions and values with the way in which they are expected to behave. Our Alumni network will hopefully be able to provide support, both practical and emotional, to get through the issues these leavers may face.
For Professionals: We intend for the EducAid Alumni Network to host a number of workshops, seminars and feature business leaders from around the world which should be of value to any professional. We also hope that the EAN will connect businesses with a pool of talented individuals, therefore finding educated, literate and trustworthy recruits for their businesses or workplaces. Most importantly, we hope that by connecting businesses and workers with aligned values – those acquired whilst at EducAid – we can help them to promote these values through their own businesses.
We expect that by building the employment prospects of young people in Sierra Leone, and by improving the business practices of the firms that operate within it, we will build the resilience to, and prevention of, health, environmental and social shocks such as the civil war or the Ebola outbreak.
EducEnt
Every year EducAid has up to one hundred students graduating from the senior secondary exams, the West African Secondary School Certificate of Education (WASSCE). Some of these students are offered places in our junior staff, but many leave the EducAid fold and are expected to fend for themselves in the working world. We see an awful lot of opportunity in this area. Clearly, there is a lot of will to work hard in Sierra Leone, but employment prospects are very poor. Entrepreneurs and small business owners often lack access to capital which disables the majority to get their businesses off the roadside. When looking at two things things side-by-side – quality human resource coming from EducAid, and a huge need for jobs – just a small investment of time, experience and money has the potential to create several sustainable businesses, employing many people and promoting the values of EducAid. This, we thought, would go a long way towards truly achieving our vision of a democratic, dignified and prosperous Sierra Leone. EducEnt is currently still in the planning stages but we hope to be up-and-running in the near future.
Explore more of our objectives by clicking on one of the links below:
Of course, running 10 school sites across the country, a national teacher training programme, as well as our first stride in to tertiary education means that we have lots to say about our programmes as well. You can find out more about these by visiting our Programmes page.