Developing Leadership Thinking & Behaviour

Developing Leadership Thinking & Behaviour in EducAid as a whole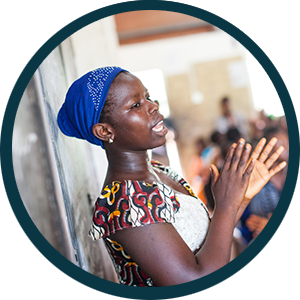 Shared Leadership
We use a Shared leadership management structure throughout the organisation, both in Sierra Leone and in the United Kingdom. Shared leadership, much like the EVC with students, ensures that all staff are involved in decision-making processes and are given the opportunity to participate in key management tasks. We find that this structure empowers staff at all levels to take on responsibilities throughout their schools and departments. Shared leadership has the operational benefit by sharing knowledge, responsibility and tasks amongst the staff provides greater efficiency and reduces key-person risk in our school management. By engaging staff in all management decisions it demands that they are aware of the decisions that will affect them directly, and urges them to think critically and challenge those decisions that are being made.
Developing Leadership Thinking & Behaviour in our Schools
In any context, developing Leadership Thinking & Behaviour is an incredibly difficult objective to achieve. In Sierra Leone, where the distance between the elite and the impoverished is so vast, and the rule-of-law is so unstable, it is made all the more difficult. EducAid believes that by making students independent, and engaging them in democratic decision-making, we can create the expectation of democracy that will make them challenge the status quo later on in life.
One of the most apparent features of our students' leadership skills is the willingness and ability of our students to stand up in front of others and to speak confidently in English. Visitors to our schools, particularly those from the NGO community, often comment on this feature as one of the ways that an EducAid education differs from others. Our students are confident, both in English and in themselves, and prepared to present their thoughts to others – a true feature of leadership. Below are some of the methods which we use to instil leadership thinking and behaviour in to our students.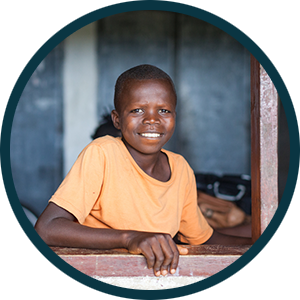 Every Voice Counts (EVC)
We started the EVC in 2016; its objective is to involve all students in the running of their schools by providing the opportunity to actively engage in decision-making and implementation. By involving our students in these decisions, working with staff to identify and resolve issues ranging across pastoral, behavioural and academic areas, they will expect and demand to be involved in decisions that affect them in later life. This initiative was first trialled in 2015, and in rolled out to all schools in 2016. It has shown that there are improvements to policy and management, as well as an improvement in attendance, behaviour and participation.
Demanding to be a part of the democratic process is essential to improving the way that Sierra Leone is governed. Although breaking in to the political elite will be extraordinarily difficult for our students, demanding fair and democratic practices is an essential hurdle that this country will need to overcome to ensure stable development in the future. The EVC teaches students to be leaders, both in thought and in behaviour.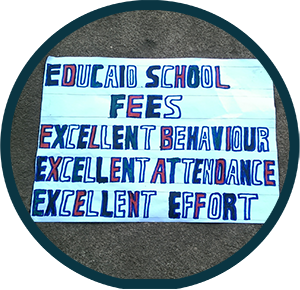 EducAid School Fees
EducAid provides free education, with no expectation of payment from students or their parents. Equally, we try to minimise the barriers to education by providing residential accommodation to the most vulnerable students, providing learning materials as well as not requiring uniforms for school. Despite being free to entry, EducAid does require that our students pay their school fees. These are: Excellent Attendance, Excellent Behaviour and Excellent Effort – nobody can pay a student's fees for them.
The fees instil a sense of responsibility in our students; in combination with the learning system, require that the students take their education in their own hands.

EducAid Learning System
Traditional school teaching, found in almost every school in Sierra Leone uses a system of rote learning; chalk and board classes, where students copy down information from the board, do very little to engage students.  In most cases the poor quality of the teaching is not a lack of will, more often it is down to a lack of education and training.
What we have experienced are teachers who do not fully know or understand the syllabus, and compensate for this by simply not teaching their students the subject units they do not know. We regularly hear reports of students sitting their exams and facing subjects that they have never come across.
This is not how EducAid operates. All of our staff fully understand their curriculum, from front to back, and we make sure that our students know what they will be facing. On the first day of the year, every student at EducAid is issued the national curriculum. It is from there that our students begin our learning method of independent study.
EducAid's learning system is most akin to a tertiary-level learning environment. Our teaching staff will begin working through the syllabus by teaching the core topics to the group. Students are then provided access to the course materials. Each student is allowed to work through the syllabus at their own pace, choosing their modules as they go. They attend classes as usual, but use the issued learning materials to work through the subject matter independently, seeking help from teachers as and when required. Subjects are broken down in to units, and we expect students to take a minimum of 2 internal unit tests per week. Students are permitted to pass on to the next unit if they achieve over 50%, and if they achieve over 70% they are considered to have passed that unit. One of the ways that we break from the traditional Sierra Leonean model of teaching is that students are allowed to take their learning materials away with them from class. We do not want to monopolise studying time, and you'll often find students in corners of the school studying away in to the evening.
Developing Leadership Thinking & Behaviour in Post-Secondary Programmes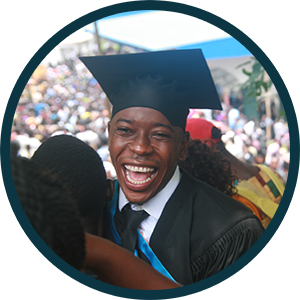 The EducAid Alumni Network (EAN)
The Alumni Network is all about Leadership: supporting alumni to role-model leadership in the professional workspace; asking alumni to role-model leadership in mentoring our students; and, the EAN executive team taking leadership roles – the EAN is about ensuring that our alumni are able to continue their dedication to EducAid values, including Leadership Thinking & Behaviour, when they depart from EducAid schools.
The Business Administration & Management Course
The tertiary course, run in conjunction with the University of Makeni, is more affectionately known as The Leadership Course. The curriculum is designed to give students a thorough background in business administration, critical and creative thinking, as well as a human-rights and ethics education. This mix of modules is designed to prepare students for their professional lives, ensuring they have a grounding in ethics and an understanding of the mechanisms of development; thus, they should be in a prime position to lead in their professional lives.
Discover more about our values by clicking on one of the buttons below:
Of course, running 8 school sites across the country, a national teacher training programme, as well as our first stride in to tertiary education means that we have lots to say about our programmes as well. You can find out more about these by visiting our Programmes page.