The EducAid Alumni Network, or EAN, was originally founded in 2013 and was re-introduced with renewed purpose in 2016. Alumni Networks are a critical part of an educational organisation, both in terms of bi-lateral support and in impact measurement, and they form an essential part of our strategy in achieving our vision: a democratic, dignified and prosperous Sierra Leone, where poverty is eliminated by educated citizens who are able to develop their personal, social and economic wellbeing.
When we think about our vision we know that we need to do more than simply provide a quality education. Sierra Leoneans face many challenges, even those leaving school with a good quality education: the job market is extremely poor, with most available jobs only to be found in the informal sector. In order to change a country we need to create a thriving business atmosphere, driven by an educated middle class. There are clearly many systemic issues within Sierra Leone: education is low and illiteracy high; ease of doing business is very low; labour laws and trade unions are weak; corruption is rife, and; nepotism exists throughout the formal job market. However, through the EducAid Alumni Network we hope to address some of these challenges.
We believe that our alumni are instilled with a sense of citizenship which is second-to-none in Sierra Leone. Working with our alumni staff it is apparent how committed they are, day-to-day, to achieving EducAid's vision. We recognise that our students, on leaving EducAid, are thrown in to a job market where they may not be able to uphold their values, particularly in the areas of citizenship and anti-corruption. By engaging our Alumni into the EAN we hope that they will be able to network, form partnerships and make recruitments from our graduating student body. We expect that by creating this formalised communication network they will be able to create a thriving business sector which is more resilient to the corrupting reality of the Sierra Leone job market by supporting each other in the upholding of our shared value set.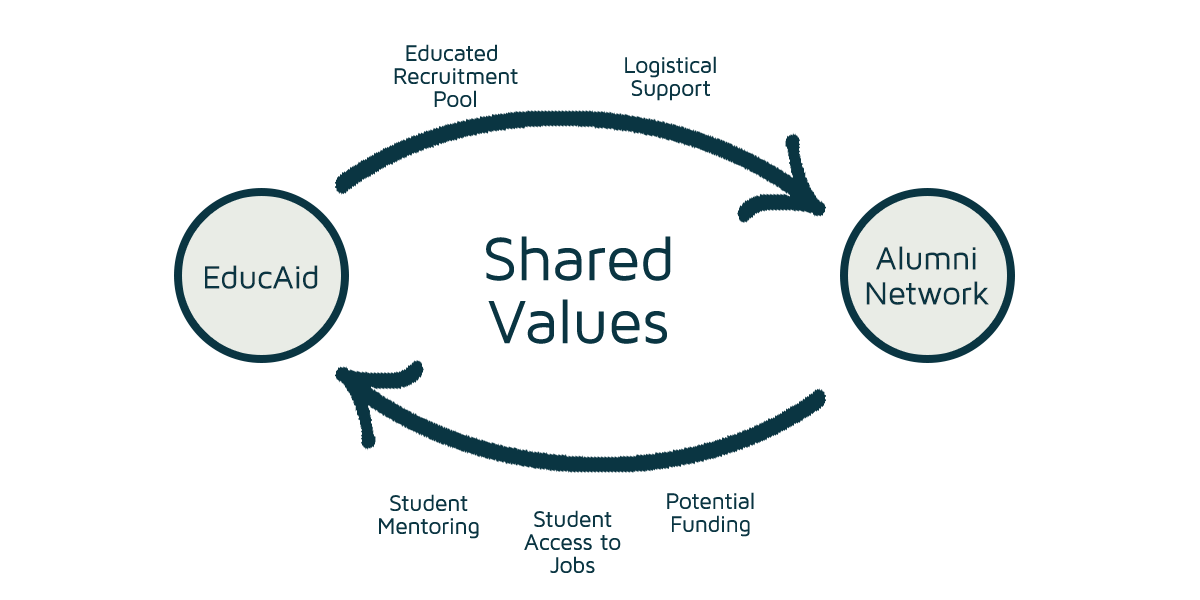 In 2016 we partnered with Future First Global, an organisation which specialises in setting up alumni networks around the world. With their consultation, we have tasked the alumni executive team to form the EAN independent from EducAid-proper. This autonomy, we have learnt, is essential: creating true buy-in within the alumni network, and providing a genuine platform for communication geared to benefit, primarily, the alumni themselves.
It is a testament to the commitment and citizenship values of our alumni that, in an anonymous survey taken at the first EAN event in October 2016, 86% responded 'Definitely' or 'Highly Likely' to whether they would contribute financially to the ongoing operations of EducAid. Whilst this is an honourable aim, and of tangible benefit to EducAid itself, our objective for the Alumni Network is to create genuine impactful change in Sierra Leone itself.
The EAN executive team is in the process of drawing up a constitution by which it will govern itself, and are in discussion with the EducAid management team more broadly to fully scope the relationship that the two organisations will have. We will post up news about the EAN in the near future.
If you are an EducAid alumni, and would like to join the EAN, you can click here to send an email and find out more.