Generally speaking, the public exam results have been very disappointing country wide this year. However, this has once again, not been the case in EducAid.
We have seen student after student come with absolutely excellent grades which opens the doors for their future.
This is a sign of great patience and endurance through very difficult circumstances on the part of the majority of the students as well as much hard work from the staff.
According to the West African Exams Council only one international school was able to beat EducAid but they have refused to name it!
26 students entered the exams and despite a wide range of ability in the group, only 2 have failed to get clear grades for University. Several got 9 out of 9 credits and above and a number got a stream of merits.
We are very proud of staff and students and hope that this will provide an even greater incentive to those following in their footsteps.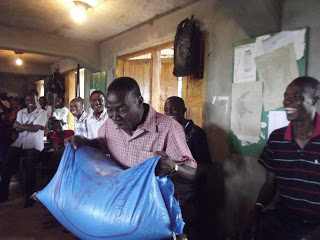 Brima Will receiving his bag of rice for achieving the best results in the school. Brima teaches Literature in English and no student got less than a credit.
If you are interested in knowing more about EducAid's work with vulnerable young Sierra Leoneans, please see www.educaid.org.uk and www.educaidsierraleone.blogspot.com