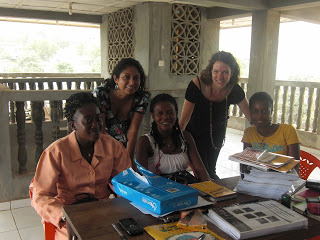 The team: Sabrina and Alison [left to right behind], Esther, Lilian and Mealo [left to right front]
AdvocAid has contracted EducAid to run literacy classes in the Pademba Road [Freetown] and Kenema prisons for female prisoners for some time now but we had our first get together and real training session this week.
Sabrina and Alison of AdvocAid had the opportunity to explain their vision of providing legal support, raising self esteem, increasing awareness of rights and procedures within the justice system, and giving some social support as well as basic literacy and numeracy skills to the women who find themselves in the prisons here. There are, of course, some whose crimes are real and who should be behind bars for the safety of all but there is a scary proportion who lose their rights and freedom for months and years at a time for issues of minor debt [£10 or the equivalent on some occasions] or loitering and the like.
When one sees the officers guarding them it is clear that not all of the criminals are on the right side of the bars! I was certainly clear before that the officers were pretty spiteful and used their mini power to make the prisoners unnecessarily miserable. I knew that nothing destined for the prisoners should ever be handed over to the officers. I knew that the women were regularly locked up in their overcrowded and unsanitary cells from as early as 3 or 4 o'clock and not unlocked until the next day at 10ish. I was however, unaware [although not surprised on reflection] that a 1 month old, inside with her mother, would be fed on mashed rice, breast feeding having been banned by the officers, or that the women are punished for any number of misdemeanours by stripping them naked before locking them up for hours. These women are really among the most vulnerable people anywhere!
It was great therefore to have the whole team together. Sabrina and Alison, lawyers who founded AdvocAid, met the teachers who deliver the EducAid end of AdvocAid's activities for the first time and it was great to share ideas and thinking about it all.
This is the beginning of a small scaling up of the services we provide. Firstly, operations will start after Easter in Makeni also. Secondly, all the teachers have been trained [and are very excited by their new found knowledge] in more modern approaches to teaching literacy i.e. using phonics. Thirdly, AdvocAid has agreed to provide certificates for the women as they hit certain targets – always a big motivator. Fourthly, we are planning a more coordinated approach so EducAid can provide other educational opportunities either for abandoned children [particularly daughters] of the prisoners and also for the younger women [Makeni has a 15 year old female inmate at the moment] wanting to get [back] into education who could join the Women's Project on discharge. The teachers are also going to provide feedback on any human rights and welfare issues so that formal intervention can be made.
On and up!
If you are interested in knowing any more about EducAid's work please go to www.educaid.org.uk