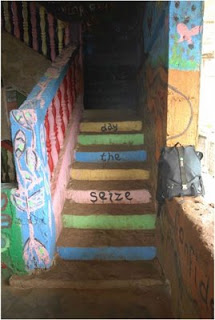 And so the bad news keeps rolling in….
Aminata Kabia joined EducAid last summer when the Women's Project started in Magbeni.  She had been out of school for many years as it had not been a priority or a possibility for her parents for her to continue her education beyond a few years of primary school.
She had however grasped this new opportunity with two hands and was regarded as a real role model to the other girls because of her commitment and her courage with regard to returning to school – she was quite rare in her community where girls' education is very low on the list of priorities.
A few weeks ago she suddenly stopped attending school and after a few enquiries amongst her colleagues the staff at the school were told that she had left school.  A little puzzled at this unexpected turn of events AA [the lead teacher in EducAid Magbeni] went to visit the family and ask what had happened.  He was told that she had severe abdominal pain but that they had not taken her to a doctor or treated her in any way.  He gave them some money to get her some basic assessment and treatment.  Some time later he went back and although he did not see her he was told that she was getting better.  The next day, today, he was passing once more and discovered that this afternoon she had died.  By all accounts, she died of an extreme infestation of worms!!!!  One more completely unnecessary Sierra Leonean death.
What can one say to such pointless losses of life?