Sponsored Bicycle Ride from
Hoek van Holland to Brussels via Amsterdam outskirts
8th to 11th September 2011
Proceeds to benefit Educaid, Sierra Leone
The trip will start with all cyclists catching the 18.20 train from London, Liverpool Street station to Harwich on Thursday 8 September and boarding the overnight ferry which departs at 23.15. The ferry will arrive in Hoek van Holland at 07.45. Bikes will be unloaded and cycling will start along the coastal route towards Haarlem and then south towards Gouda (80 – 85miles).
Arrival in Paris after 2 days cycling from London, in June 2007
On the second day cyclists will ride along picturesque canal paths catching a glimpse of Dutch countryside and sampling delicious food. The second day (75 miles) will end close to Antwerp. The final day will be a short cycle ride (50 miles) into Brussels ending with a celebratory meal before boarding the 17.59 Eurostar arriving in London at 19.03.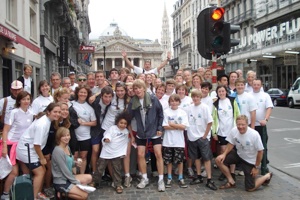 Arrival in Brussels after 3 days of cycling in September 2009
A support vehicle will accompany the cyclists throughout the ride as well as a catering vehicle which will carry supplies to sustain cyclists. Phil Magnus and Paul Gage the 'Bike Mechanics' will cycle with the group to support any cyclists requiring maintenance for their bikes. All bikes will be transported to Holland in a van which will be loaded on Wednesday evening in Muswell Hill and will return with the bikes to London after the ride. Bikes can be collected from St James on Monday morning.
In order to raise funds for the project we are asking participants to raise a minimum of £1,000 each in sponsorship and to cover their own costs, which are estimated at £300 per person which will include Eurostar tickets, ferry ticket and cabin, two overnight stays as well as food during the ride. A limited number of places will be available for full-time students who will be asked to fund 3/4 of their costs and to raise a minimum of £500 in sponsorship.
We have 50 spaces booked so need to know by 28 July if you are able to join us!!!
We will arrange for sponsorship donations to be made on-line through
www.justgiving.com
. Sponsorship forms with gift aid facilities will be available too.
If you would like any further information please speak to Janet Broadhurst who can be contacted on 07956 423 223 or
janetbroadhurst@aol.com