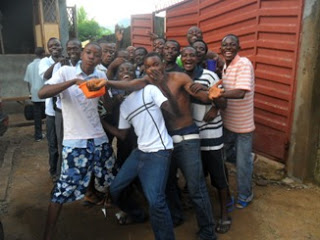 Great Excitement as the lads wish Balla safe journey.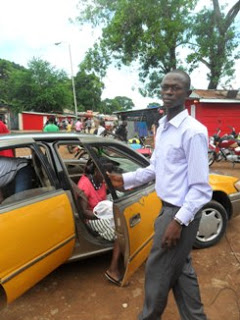 Balla on his way to the airport…..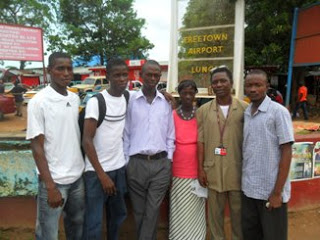 Goodbyes at Lungi airport.
A life changing journey…… [hopefully the breakdown on the way to the ferry will be the last of the hiccups he has to face!]
Balla Turay, was awarded a grant to go and study ICT in Venezuela in March 2010 [see blog post at the time]. After a ridiculous amount of 'to'ing and 'fro'ing to the ministry of Foreign Affairs, sending of passports, returning of passports, undertaking medical tests, redoing medical tests and so on and so on, when almost all hope had gone that it would ever materialise, Balla is on his way 17 months later.
It is common place for all such offers to go to the rich and well connected and Balla lacked both attributes. His patience and integrity has paid off today though and he is flying tonight.
Balla comes from a home where finances were such that finishing his secondary education was not going to happen unaided. It was his hard work, excellent exam results, community service certificate! and determination that have enabled him to break out of the cycle of poverty. This will change the options he has forever.
Balla will be the 4th EducAidian to travel out of the country on a grant for study: Kema Gondo is in China studying medicine; Issa Fowai is in China studying engineering; Musa Koroma is in Russia studying engineering and Balla will be in Venezuela doing Information and Communication Technology.
We wish him every success in his studies [3 months of Spanish first] and look forward to welcoming him back with all his new found knowledge, skills and vision when he finishes.
If you are interested in knowing more about EducAid's work with vulnerable young Sierra Leoneans, please go to www.educaid.org.uk and www.sierraleonegirls.blogspot.com