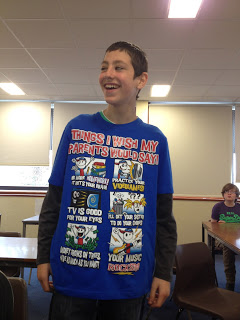 Josh worked with his father, doing the garden
for friends and neighbours and raised £200+ for EducAid
Now back in the UK for ten plus very cold days, I have just spent the morning in Blessed George Napier School. I left there as a pupil some 26 years ago, (scary thought) and did not expect at the time to ever be welcomed over the threshold again!
I first went back a couple of years ago and since then the pupils have been fundraising for EducAid. Last November when I went in though, things notched up significantly. A good number of teachers got behind the project. Loads of them signed up themselves to be regular donors and different year groups organised different activities to get the money coming in. A month later, they sent in cheques totalling over £2500 enough to pay for over 20 children at EducAid for a year of food and education.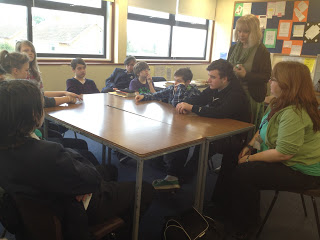 Year 9 English class discussing their fund-raising activities
and getting ready to do their display work about EducAid.
I went in today to say thank you and hopefully encourage them to keep it up. I was particularly touched by the Year 9 students I spoke to. Their year head, Prim Herridge, is not to be messed with and she organised and activated them and the result was impressive. On their own, year 9 raised half of the whole school total.
Matthew, Year 9, is conscious that his mum's strength
and courage have given him what is necessary to
overcome the difficulties in his early childhood and
have something to give others.
If you are interested in knowing more about EducAid's work with vulnerable young Sierra Leoneans, please go to www.educaid.org.uk and www.sierraleonegirls.blogspot.com