Donald Whenzle is another member of the EducAid community that has had to grapple with the ferocious Ebola virus.
Donald grew up in Waterloo, attending both Primary and Junior Secondary school there before joining EducAid to finish his Senior Secondary studies. He was shocked on his arrival because of the vast differences in teaching methods. His previous school taught only the essential knowledge for exams, on a rote learning basis – a method that he suggests made it hard for him and his peers to engage with.
On arriving at EducAid, he found our independent learning and holistic syllabus particularly challenging, so it took him some time to adjust. However, having become an integral member of the EducAid family, Donald sees himself as improving socially as well as academically at EducAid. His studies were disrupted somewhat after the Minister of Education cancelled the senior public exams in 2013, but he was finally able to finish his secondary studies in 2014 and to join our junior staff early on this year.
Donald says that the style and content of teaching provides a completely different kind of education that he was ever exposed to. He points out that the
Quality Enhancement Programmes
– teacher training courses for other school teachers – are a testament to the fact that EducAid's model is one to follow. It lays an importance on being a wholesome member of society, and giving education back to the community, rather than simply passing exams. In turn, this focus sees EducAid make important and long-lasting changes to Sierra Leone.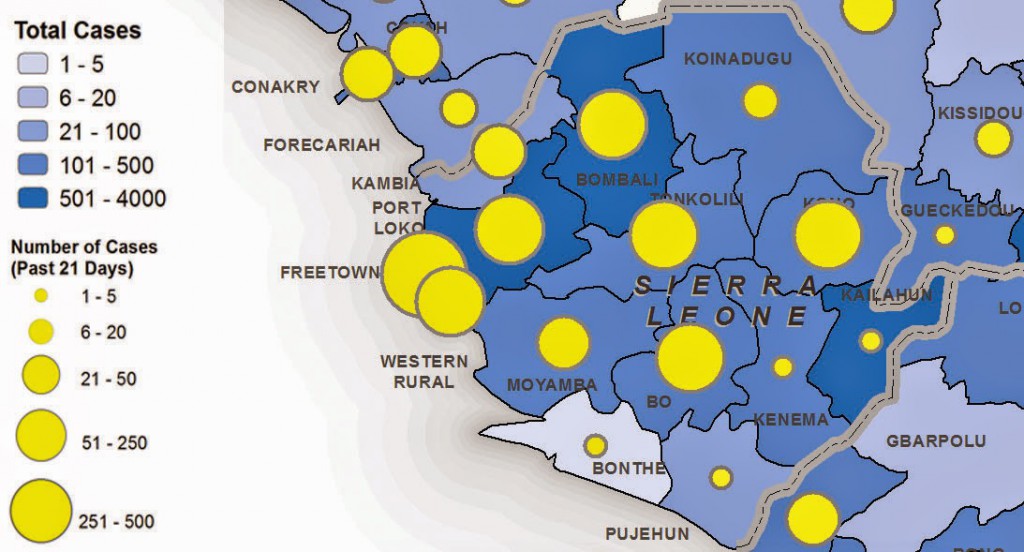 Waterloo is a major intersection on the Masiaka-Yonibana Highway, on the main approach to Freetown from the South. It has been one of the worst seats of Ebola. The map, drawn from a WHO Situation Report on 10th December, shows the number of cases to appear across Sierra Leone in the prior 21 days.
Freetown is on the west coast, and the big yellow circle sitting on top and south of Freetown's circle represents the outbreak in Waterloo. The voracity of the disease's spread has not let up since the beginning of the outbreak, and life there is incomparable to what it was before Ebola.

Donald was in Maronka, one of our schools, when he heard that his mother had travelled from Waterloo to stay in a nearby town, Wellington, to try and escape Ebola. Later on, he got a call from his mother to hear that the house she had previously been staying in had been quarantined because an uncle had become infected by Ebola. The whole family was quarantined in the house with no food, treatment, or water for one week. Eventually they were taken to the treatment centre, but it was too late for most of them. One by one, nine out of eleven members of the family became infected and died. His grandmother, three uncles, three aunts, two cousins all died; two aunts survived.
The fact of Donald's mother going to Wellington for that period saved her life – it is these moments of fortune that we hope to hear every day. Donald is very grateful to be in the EducAid family and explains that without EducAid, his situation would be much more vulnerable indeed. He is also fairly sure that he too would have been infected if he had been with his Waterloo family.
This is another example of the importance of isolation from Ebola. The first phase of our #AfterEbola programme has been a success, in that we have avoided any cases of Ebola on our sites so far, and now we are moving forwards by implementing Phase 2, and Phase 3.
We can only pray for miracles and fortune, but we can actually make preventative action. We are fighting for a life #AfterEbola, please help us this Christmas time.
Donate to our Ebola campaign here.
Like our facebook page, follow Miriam on Twitter, and sign up to our blog for more EducAid news and updates.
Christmas is coming…maybe think about buying a Gift Certificate, or a delightful book of photographs taken by our students in Maronka and Rolal.