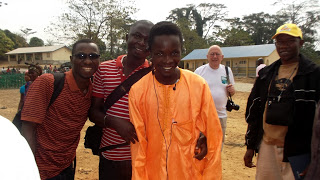 Cobra, and colleagues as the relationship between EducAid
and some of its partner schools starts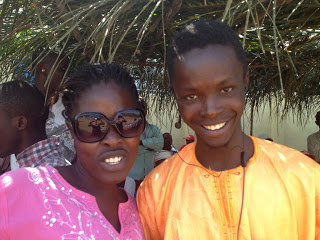 Cobra and colleague, Marion, at the same event
Mohamed Cobra Bangura, youngest leader at EducAid, had an idea. In his own words…..
Well, at first it was a bit of a daydream when I had this idea. The idea was about letting people know that whenever there are problems, there need to be solutions. People are always coming with problems and this happens all over the world but I thought we could introduce a problem solving idea to EducAid.


Initially, I proposed that we should encourage problem solving and we would make a sort of competition so the person with the best 'solution' to an EducAid problem should receive Le 100,000. I talked to Miriam and she liked the suggestion and said this was so important she wanted everyone to get involved. We upped the prize money and sent the message out across all the schools.


When I also entered the competition, it felt a bit like a joke because all of the senior staff were entering too so I thought I could not possibly succeed as they are so experienced. I gathered ideas and submitted my entry, explaining the need and the solution and what I had done so far towards motivating staff and students to contribute towards the solution. I wrote about the need for dedicated boys' accommodation in Maronka and I explained how the staff, students and the community had engaged in making bricks to bring the costs of the construction down. Finally, I submitted it but I had little hope. I was shocked when Miriam spoke to us all at a management meeting and announced that I had won the million Leones prize. It was as if I was flying across the world because my idea was appreciated and I won the competition. I now know that I can make things better with my little thoughts. Thanks a lot.
If you are interested in knowing more about EducAid's work with vulnerable young Sierra Leoneans, please go to www.educaid.org.uk and www.sierraleonegirls.blogspot.com