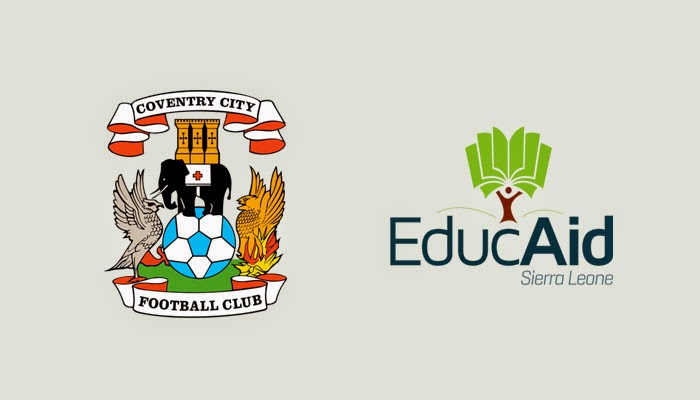 Coventry City Football Club announced recently that they were commencing an exciting initiative to help orphans in Sierra Leone. Towards the end of last year Miriam visited a small village in a rural part of Sierra Leone called Kigbal. The plight of the town was covered in a video by the BBC journalist Andrew Harding, in which he reported the revealed the terrible situation in the village. The video was broadcast widely and attracted responses from many international organisations wanting to assist those trapped in such terrible circumstances.
The village was divided by a road; those suffering from Ebola on one side, and those not yet showing symptoms standing on the other. The chief had been calling the Ebola response teams for days to come and relieve the village with medical support and corpse removal, but only after a week in to the outbreak did they respond. A huge number of lives were lost, and left behind the dead were dozens of orphaned infants and children.
Kigbal is in the Port Loko District where EducAid has four of its schools. There are over 2000 children who have been orphaned by Ebola there. Miriam visited Kigbal shortly after the story had broken and before other international aid and support had started to come. EducAid was able to help some of the children by providing a safe place for quarantine; that was the beginning of our work with many more of the children whose lives have been devastated by Ebola. The number of children needing help is almost beyond imagination, country wide.
Simultaneously, the video was being broadcast via the internet in the UK. On watching the BBC piece, a member of Coventry City FC's staff noticed that one of the young boys who had lost his father was wearing a club shirt. This simple image, one of a young boy left without a father and whose mother was suspected to have Ebola, spurred him and the club in to action. Mark Hornby, head of marketing at Coventry City FC, said: "It was a very moving report and to then see a boy in a Sky Blues shirt really brought it home and, as a club, we wanted to find out the best way we could help."
The first point of contact they made was with Andrew Harding. Andrew promptly directed the club on to Miriam, as Country Director of this charity whose work with vulnerable children had touched him. When Miriam told the club more about the situation in Sierra Leone, and the work that EducAid was doing there, they were further compelled to act. After some investigation, the club identified that the shirt had arrived in the country as part of a shirt amnesty some years previously. The truth of Ebola is that when a house is identified as a contagious area, one of the first courses of action is for all of the possessions to be burned in order to stop the virus as early as possible. Upon Miriam telling them of this, the club decided that another shirt amnesty would be an appropriate way for them to help Sierra Leone again.
However, arranging a significant transfer of items to Sierra Leone is not as straightforward as it once was. The decision by the UK government to close flight routes from Sierra Leone in to the UK has made the provision of supplies, both medical and humanitarian, significantly more difficult. As we reported in a post some months ago, these decision are so often driven by political motivations and not by the desire to quickly paralyse the virus at it's source. Frustratingly the decision has been made, and we are now facing these increasingly difficult supply routes in to the country.
The Coventry Telegraph reports that the club is currently organising the logistics of sending these shirts, but "In the meantime" Mark said, "we've purchased 12 copies of 'Our World, Our Eyes, Our Imagination' – which captures the story of people in Sierra Leone through a photography project. Two of those will go on display in the community area of our superstore and the other ten will be given to club partners."[1] This is a great start for our affiliation with Coventry City Football Club.
We are hugely thankful for the support shown by CCFC, and for the support of their fans. We hope that we will be able to get the logistics arranged soon so that we can deliver some of the items that we so desperately need in our schools.
If you think that you would like to help, visit our Fundraising Page for ideas on how to contribute to EducAid. It's not just about fundraising: spreading the message of EducAid in person and online; organising school talking events and assemblies; and supporting us in many other ways help us hugely.
If you would like a copy of the book that CCFC have purchased, you can find out how to do so here.
If you would like to help us financially, you can do so at our MyDonate page. You will be helping so many young people to fight for a life #AfterEbola.
[1] http://www.coventrytelegraph.net/news/coventry-news/sky-blues-support-vulnerable-children-8496323