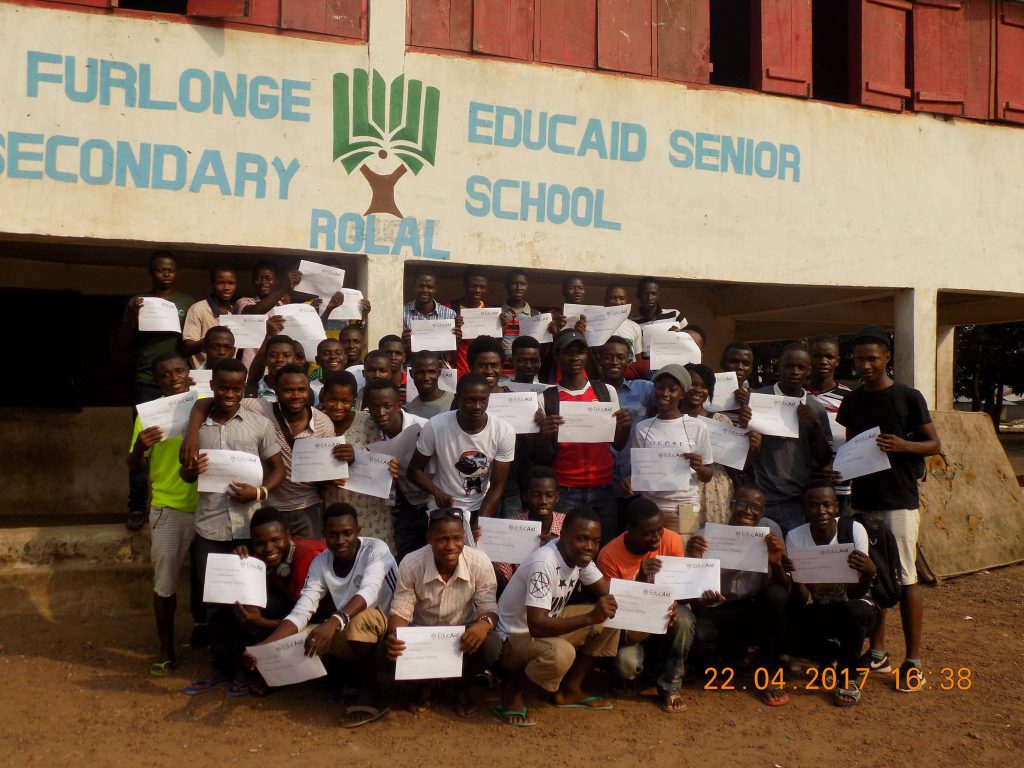 Dr. Véronique Desnain is one of the newest members of our Board of Trustees. Véronique is an educationalist: a senior lecturer at the University of Edinburgh, and a long-term friend of Miriam and of EducAid. In April 2017, Véronique travelled to Sierra Leone to visit Miriam, our programmes and to deliver the second phase of our tertiary-level course.
"This was my second trip to Sierra Leone and, as last year, the main purpose of my visit was to deliver the Logic and Critical Thinking module on the Development Studies and Leadership course.
Numbers went up from 15 students in the first cohort to 46 this year, with previous students taking an active part in promoting the course and getting staff to sign up for it.
The 40 contact teaching hours were delivered during the second week of my stay. It was, once again, a pleasure to teach students who are eager to learn and remarkably open to challenges, even when those feel at odds with their usual way of thinking. Although most teaching days took place from 9am to 9pm, students were always eager for more, continuing discussions and questions over lunch and other breaks.
Although the teaching took place in Rolal, I was based in Maronka.  Despite taking place in the school holidays, over 150 children were in Maronka and activities were organised to keep them active and entertained: a treasure hunt, with clues based on reading and math skills, an obstacle race, reading stories, a dance contest, etc.
The first week was spent meeting with 12 members of staff and recording their life story for the Voices from EducAid Sierra Leone, a project I am currently organising with a group of volunteers in Edinburgh and which we hope to see included in the University of Edinburgh's Africa Week next October. This project aims to get local artists to shape the story into their preferred art form (in collaboration with the original story tellers) and to present the stories, alongside a series of photographs, at an event. The event will be filmed and copies sent to the schools in Sierra Leone and, if enough of the contributions lend themselves to it, to produce a book which will be sold for donations.
It is always hard to leave Sierra Leone, and as last year, back in the UK, I already miss the friends I made during my first trip and who I got to know even better this time, as well as new friends, students and staff of EducAid, who always impress me with their dedication, strength and generosity."
Véronique has already made a valuable contribution to EducAid both programmatically, and through her participation in the Strategy Day. We value her straight-talking, clear direction in matters that relate to the educational impact of EducAid. It is a pleasure and an honour to count someone with her educational background amongst our Board. Welcome, Véronique and thank you.