Imagine a world where every girl had at least one dress!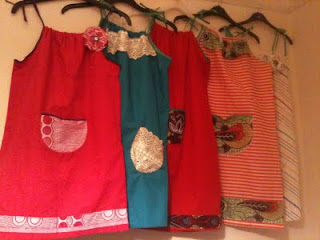 Wow – what beautiful pillow cases!
This is how their website opens.
www.dressagirlaroundtheworld.com is an organisation with a non denominational Christian foundation with the aim of giving a little bit of value and feeling special and pretty to as many little girls around the world as it can. They sew pillow cases into dresses. When I went on the website this evening, they had delivered 31,804 dresses in 47 countries.
Now, Esther's craft group has joined the ranks of the sewing enthusiasts and they are producing beautiful dresses for the girls in Maronka.
It is one of the things that sticks in my mind from when I first went to Maronka, 11 years ago: there were three houses and the children were rag poor. If a kid had pants, he didn't have a T-shirt and those who had a top did not have pants and a good proportion of the smaller ones had neither.
Over the years, with the ending of the war, the coming of the school and various donations, things have looked up. Now, most children would have a pair of flip flops [often worn right through underneath but….present] and a handful of clothes even if they don't fit properly and often have great holes in them. However, pretty things that are the personal property of an individual are very rare events!
This is a lovely project and we are greatly appreciative of Esther and her team!
Thank you all.