The visitors brought over piles of boxes of collected goodies for EducAid.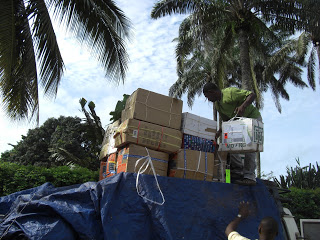 You can get more on there than that. This is Sierra Leone!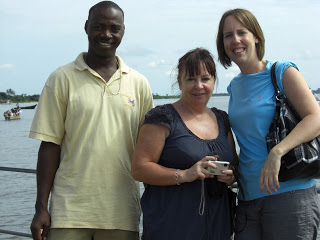 Brima, temporary tour guide, with some of his guests.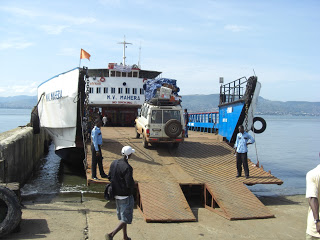 First on the ferry across to Freetown from Lungi, where the international airport is.
For a long time, EducAid has been friends with Tom, bmi pilot, who has visited EducAid a couple of times and has helped us transport some vital equipment on various occasions over the years.
Recently, we also made friends with Ann Bitar who works on check-in at Heathrow. Ann was due to visit Freetown on holiday with some colleagues. After a brief chat when she was intrigued as to what I could possibly taking back in my ridiculous quantity of luggage she had a look at the EducAid website and decided she could help.
Ann and colleagues had everyone they knew collecting for EducAid but then came the joyous task of transporting it all to Sierra Leone and then to the schools. They managed to persuade Sierra Leonean handling staff to help them through the airport and to the nearby airport hotel and the EducAid staff collected them early the next morning to get the first ferry into Freetown.
It was something of a rude awakening to the visitors but they enjoyed their visits to the schools and indeed to the beautiful beaches around the Freetown peninsular and have professed themselves ready whenever they can to help again. In fact, Ann joined my besieged sister in packing another mountain of boxes of stationery for transport last week and got them all across to Sierra Leone free of charge again.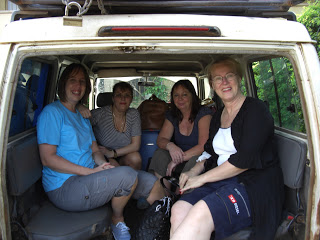 The visitors adjusting to slightly different travel arrangements!
Many many thanks to all those involved. Bringing stuff safely and quickly into Sierra Leone is a significant challenge under normal circumstances and all your efforts on our behalf are greatly, greatly appreciated.
If you are interested in knowing more about EducAid's work with vulnerable Sierra Leoneans, please go to www.educaid.org.uk