Dear everyone,
We hope this email finds you and your families keeping well in these strange days. EducAid have been working tirelessly these last few weeks to make sure we are doing all we can to keep the children and communities we serve safe in these uncertain times. We write not only to inform you of our efforts, but because we need your help.
We had hoped that Africa might be spared the turmoil of COVID-19, but sadly, that will not be the case. Sierra Leone's first case of the coronavirus was confirmed 31st March. EducAid's experience through Ebola has prepared us well for what is to come, but it also means we know all-too-well the harsh realities ahead. During Ebola, EducAid worked tirelessly to keep communities safe and find innovative ways to help learning to continue during 8 months of school closures.
While this is a time of uncertainty, this is what we know for sure: EducAid has never backed away from a challenge. We know what we need to do and we need your help to do it.
We started working to prevent the spread of the virus and misinformation as soon as the first cases were recorded in Africa. Yesterday (31st March) was the last day of school for an indefinite period, across Sierra Leone. For the last two weeks, we have been working on how to keep the children and communities we serve safe and, if possible, still engaged with their education. This is always our highest priority.
So far we have:
Distributed WHO recommendations and information about COVID-19 to the remote communities we serve in audio, written and symbol / icon formats.
Recorded public health messages with information about the virus in Themne, Krio, Korankoh, Limba and other languages for dissemination to strengthen resilience and arm communities with essential information.
Prepared learning packs, as well as, virus information packs to send home with students to prevent misinformation and to inform communities about how to prevent spread of the virus.
Prepared and recorded remote learning lessons for distribution by radio and other methods. EducAid is taking a lead role in the Teaching Service Commission radio programming in Sierra Leone.
Reviewed bodily autonomy lessons and supported boys and girls to take measures to avoid the increase in child pregnancy that was experienced during the Ebola school closures.
Reviewed proper handwashing and increased hygiene protocols in schools.
Updated Ebola protocols, guidelines and processes for all EducAid sites, highlighting the differences between Ebola and corona contagion routes.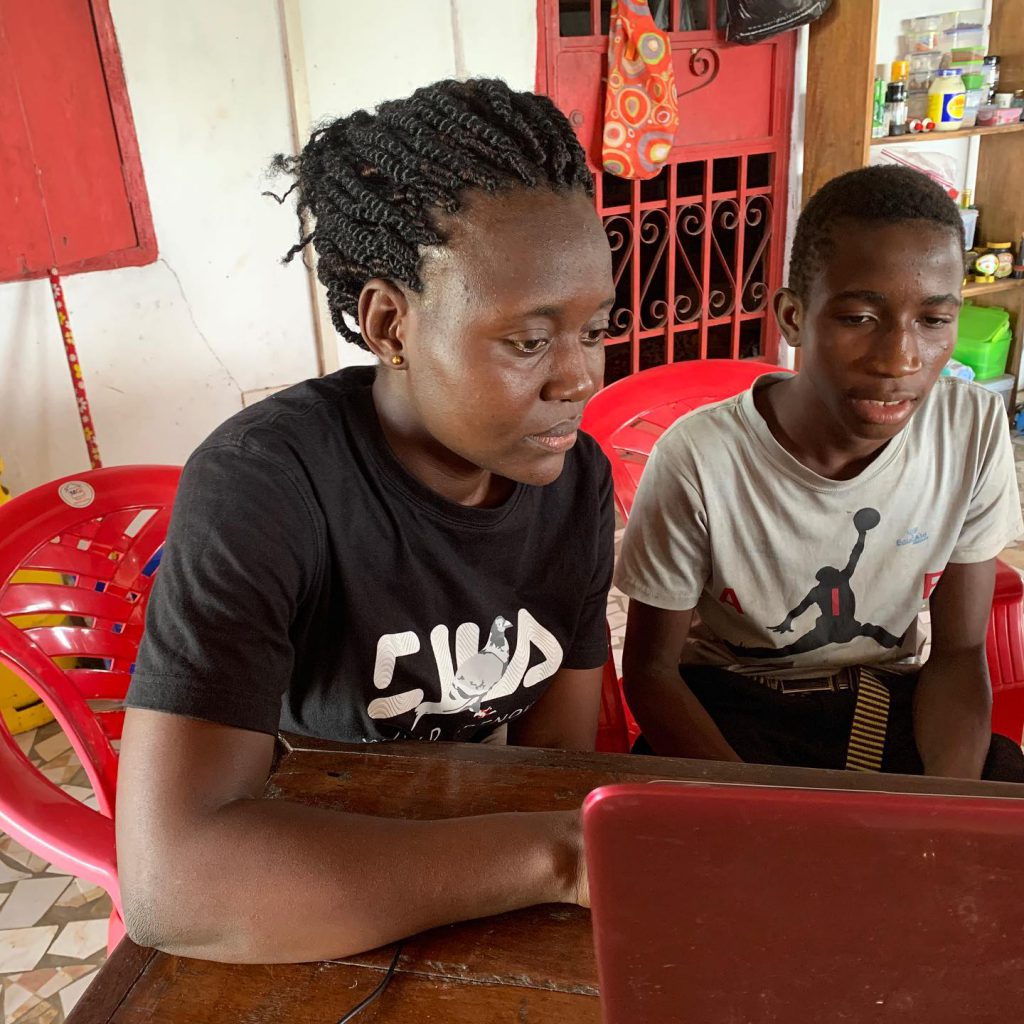 EducAid staff record public health messages with information about the virus in Themne, Krio, Korankoh, Limba to be shared with communities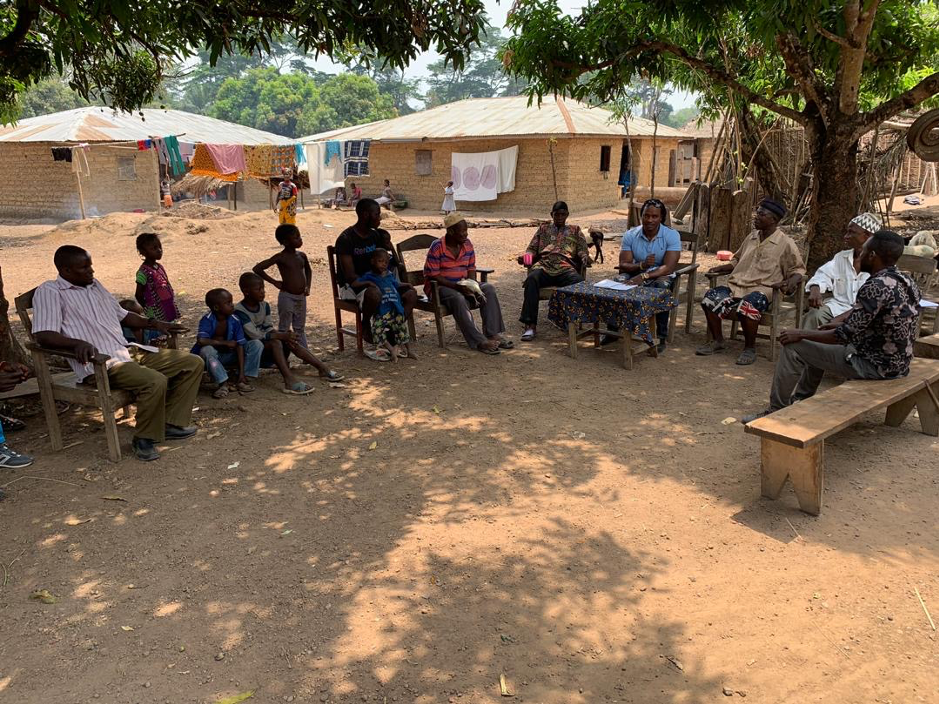 EducAid Education Team sharing information with community elders and members
We now need your help so we can:
Keep EducAid students with nowhere else to go safe and learning at the schools they call home
Continue to pay EducAid staff – while their job descriptions may change, there is much work to be done and even more when schools reopen – this is an opportunity to train and prepare for the enormous setbacks our students will have to overcome when they return to us.
Make sure learning continues across Sierra Leone in innovative ways that reach as many communities and children as possible. EducAid has built an incredible network and is a trusted name in Sierra Leone.
Ensure our schools are not only ready to reopen and programmes ready to continue, but that they reopen even stronger to meet the changing needs of the children and schools we serve.
We cannot do this without your help. We have quickly adjusted our work in response to the COVID-19 pandemic, but we know that we will be facing a dramatic drop in income in the months ahead. Much of our income comes from events that will now not take place, from schools that will now be shut throughout the next term or more, from funders and trusts who are also experiencing challenges. Without your help, all we have built over the last 25 years is in jeopardy.
We know the months ahead will be difficult ones for all of us. We are keeping all of you, our EducAid family, in our thoughts and prayers as we all navigate the uncertainties ahead. We will be sure to send updates on the situation and continue to send sunshine and good news to your inbox to show you how your continued support is doing extraordinary things in Sierra Leone.
EducAid's stability has always come from our supporters. Please give what you can to help EducAid weather the inevitable challenges ahead.
Sending strength and solidarity,
Erin & Miriam
How to give:
Virgin Money Giving – Covid-19 Appeal
https://uk.virginmoneygiving.com/charity-web/charity/displayCharityCampaignPage.action?charityCampaignUrl=EducAidCovidAppeal
Set up a monthly donation:
The easiest way to set up a regular donation is through your online banking using EducAid's bank details below. This will ensure your support during the difficult months ahead.
Account Name: EducAid Sierra Leone
Account Number: 8028 0100
Sort Code: 20-10-53
Gift Aid form:
To make sure we have current Gift Aid information on file, please fill out our online form using this link.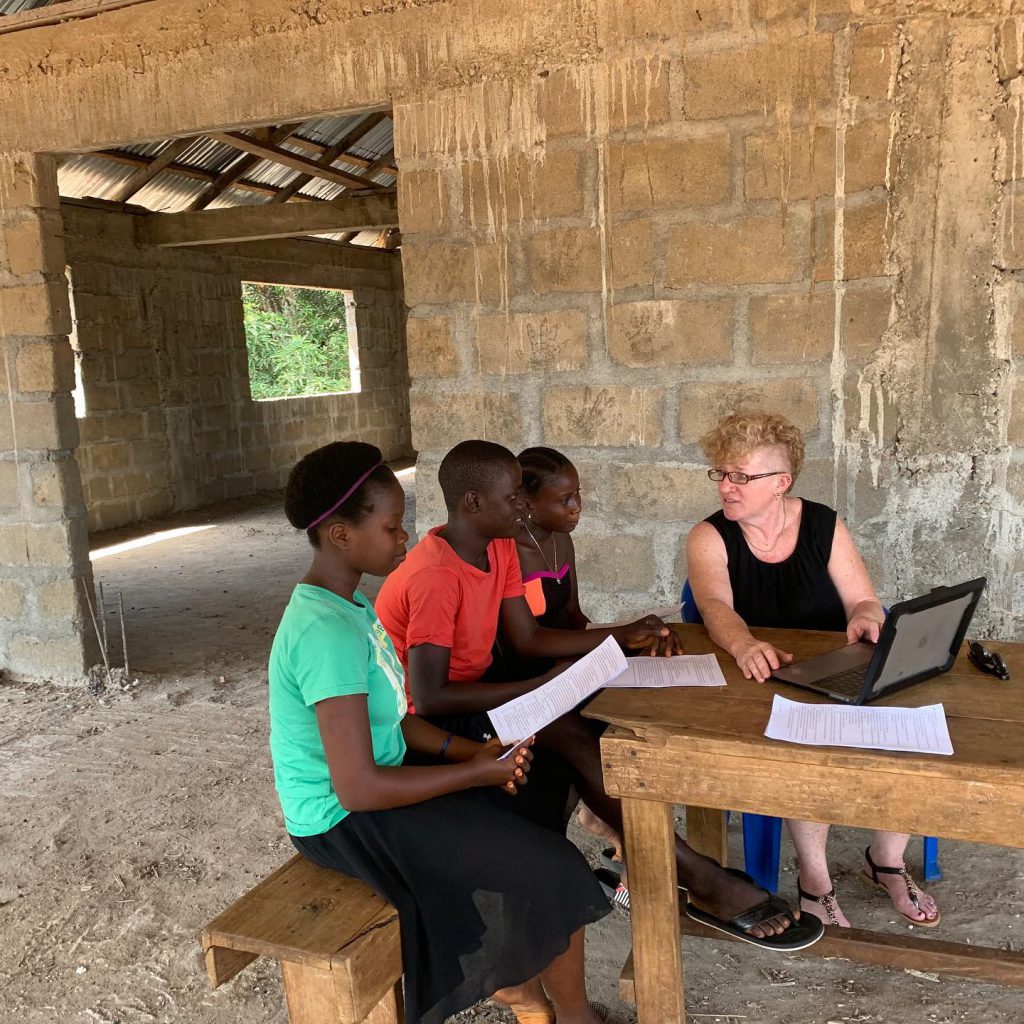 Miriam and students recording lessons for remote learning in Port Loko