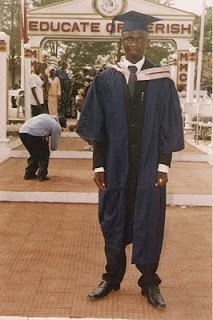 He's usually a lot smilier than this – must have been the awe of the occasion!
When EducAid first started its own school on 18th September, 2000 with 20 assorted youngsters, on the back veranda of a house I rented, Ezekiel was one of the founding pupils. He had not been to school for seven years and had not expected to ever finish his education.
Ezekiel has been teaching in Magbeni since September and is really making sure that his education is put to good use. He graduated with a Higher Teachers' Certificate last week and we are all very proud of his achievement against all the odds.
If you are interested in knowing more about EducAid's work with vulnerable Sierra Leonean youngsters please go to www.educaid.org.uk