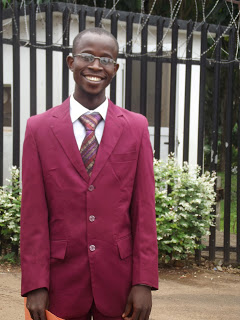 All in his Sunday best, ready for his interview at the
British High Commission before his trip to the UK in 2011.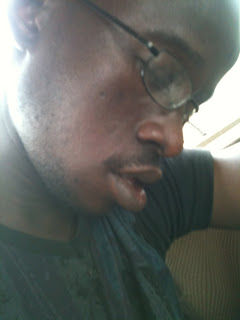 The quiet version!
He's exhausted himself
running up and down the country
and with all the extra maths lessons : )
Gaza is a character. Looking at him, you would think he was one of the students and indeed when he first joined EducAid, it was very hard to tell the difference at all.
As time has gone on, Gassim Sillah has taken his role as science teacher and now head of the Science Department more and more seriously. If other members want to book the exam classes for extra sessions, they will have a problem: Gaza will probably have already booked in for extra maths before anyone gets a look in.
It is hard to get good science teachers in Sierra Leone. Science has long been neglected and Maths more so. If EducAid gets good maths results and produces competent mathematicians, it is thanks to Gaza. If we do well in our science exams and have a good number of scientists doing engineering and medicine at university in Sierra Leone and on international scholarships, it is because of Gaza.
Gaza regularly houses youngsters who are promising scientists but have difficult home situations. He encourages them to study. He advises them about how to organise themselves and preparing patiently for exams so they can do well. He is not perfect but he is a wonderful role model.
This week he has finished off the last science practicals, having been chasing all over the country for materials and then to organise both sets of practicals: Rolal and Lumley.
Thanks Gaza for a fantastic job. If we had more patriotic committed science teachers around like you, it would be a very very good thing for the country.
Keep up the excellent work.
If you are interested in knowing more about EducAid's work with vulnerable young people, please go to www.educaid.org.uk and www.sierraleonegirls.blogspot.com