Adrian and Swithun spent their last afternoon seeing the kids at their best: receiving certificates and prizes for community service done, top exam scores achieved, merit certificates earned, being talked through numerous presentations from the various clubs: Science, Girl Power Group, Peer Mediators, Believers in Action, Life Skills Group, Library Society, ICT club and more. This is all stuff you might well expect in a UK school but would be pretty much unheard of elsewhere in Sierra Leone. We can think of no good reason for aiming to have anything other than international standards for our students.
…….Oh and we threw in a bit of communal feeding for them too!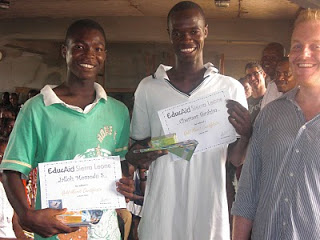 Momodu and Chernor receiving their Gold merit certificates from Swithun. Gold certificates are awarded for 90 merits – A fantastic achievement therefore!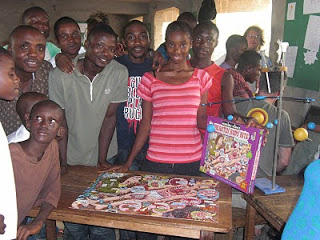 The various clubs put up displays and showed their power-point presentations to the visitors and the staff. Here is the science club with their biology puzzle and solar system.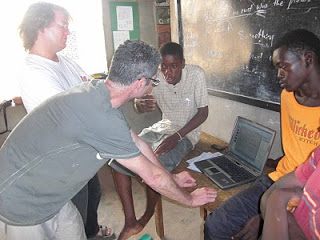 Yayah explains the restorative justice of the peer mediators to Adrian and Marek [philosophy and maths teacher volunteer].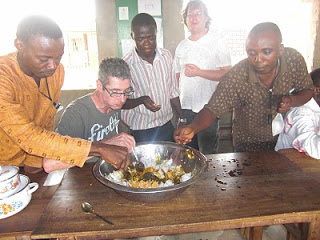 Adrian distributed certificates and prizes for the top scorers in the 1st term exams.