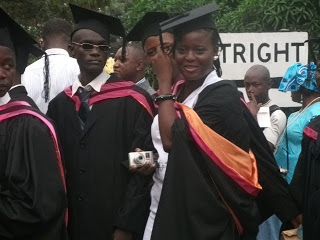 Jennifer Thomas, left EducAid in 2006 and
graduated Dec 2010 from Fourah Bay College, Freetown.
While Moses has stayed at the heart of EducAid throughout his studies, Jennifer lived in her family home and was not so frequently to be seen.
It is great though to see that, despite all the enormous pressures against girls and women pursuing an education, some of our EducAid girls are starting to come out at the top end of the system too.
Jennifer Thomas graduated on the same day as Moses with a first class Economics degree; the first woman to have achieved such a distinction in ten years.
We congratulate her on her achievement and wish her all success in the future. May she put her newly found knowledge to great effect and be part of the battle for change across this nation. If the economics of Sierra Leone are allowed to function in transparency, we will indeed see the progress we all desire.
Congratulations Jennifer. Well done and keep up the fight. The EducAid girls following in your footsteps need you as a role model. Please don't forget them.
If you are interested in knowing more about EducAid's work with vulnerable young Sierra Leoneans, please go to www.educaid.org.uk