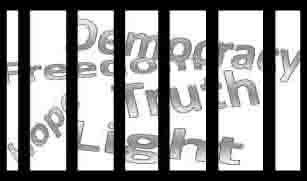 This week I paid a visit to the Female Section of the Kenema Prison.  I found myself having to hold back tears as, before we had our little meeting, they un-self-consciously sang chorus after chorus about Jesus forgiving them their sins and how prison was not for them any more!  
32 inmates with four children in tow.
My meeting was to ask if some or all of the women would be interested in starting some literacy classes.  AdvocAid contracts EducAid to run a similar programme in Freetown Central Prison but now many of the long term female inmates have been transferred to Kenema and the plan is to extend the programme there now.  The data I needed was how long the women's sentences were and what their educational levels were.  A handful have some years of primary education behind them, one is a trained birth attendant, and the rest have no schooling whatsoever.  The educated, the wealthy in Sierra Leone are apparently not criminals.  It is the case the world over, I suppose, but here more starkly than elsewhere it is clear, that money can make all the difference.
I would like to think that the literacy classes can bring a spark of hope in a very bleak world but it seems almost crazy to try and plead for their cooperation with such a project faced as they are with such daily humiliations as deprivation of food, soap and basics, being locked up in their cells to save the officers the hassle of having to deal with them, torment over their children's fates on the outside without their mothers to fend for them.  In just a little time I felt so horribly helpless at the stories I heard.  
I have in the past had one ex-inmate visit me because she wanted a reprint of her literacy certificate so that she could use it to take some steps to a new life once she gained freedom and I do hope that there may be others who are able to use this opportunity to some purpose but goodness me it seems like a very tiny ray in the gloom.