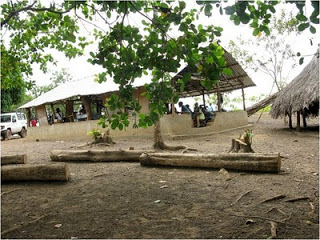 When we first started visiting Maronka, there were three houses and that was pretty much it. Obai Santigie [the chief] always made me welcome and encouraged return visits but there was little to draw outsiders in apart from the palm wine, the peaceful environment and the warm welcome. After some time, I asked Obai why there were six children, clearly of school age, not going to school. He explained that they would have to cross the jungle about 3 miles and at their age that was not a daily feasibility. It would have been a significant financial challenge too, of course. I bought him a couple of blackboards and a box of chalk and suggested that he got somebody who had been to school themselves to at least teach them the alphabet and some basics so that, when the time came for them to go to school, they would not have to start at zero.
Next time I visited, the six children had become twelve. A young woman who had completed a couple of years of secondary schooling had been recruited to teach them to read and write. The next time twelve had become twenty eight and Obai had started feeding them once a day so they could concentrate in class. The class was actually his 'barrie' [is this where the word barrister comes from???] where he heard and settled cases arising in his chiefdom. The next thing was that, while the children continued to grow in number, their teacher was taken on to greater things and moved out of the village. Obai asked me what we should do now. I wondered to myself, how there was a 'we' and found that I had accidentally started a primary school and was required to find a teacher to run it.
Mani Abu, childhood friend and best man of Alhassan's, had come from Freetown to teach in Rolal and was proving himself invaluable in terms of his hard work and commitment to the EducAid cause but he had left his wife behind in the city. Fatmata was asked if she would be interested in moving a bit closer to her husband and take up the responsibility and the rest is history! She has been running the school for 5 years. There are now over 100 pupils. EducAid took formal responsibility for the running of the primary school about three years ago and started sending senior Freetown students on 'community service' to work alongside Fatmata. 2 years ago, we added a bright young man by the name of Saffa Musa, who is an ex-EducAid student. Now there are 4 junior staff [i.e. ex-EducAid students] who work with Fatmata and run the school. They are also undertaking a distance teacher training course at the same time.
Maronka sent 12 students on to Rolal Junior Secondary School this academic year and they are more than holding their own with their fellows from other schools in Port Loko and elsewhere.
With the new building, my slowly growing confidence at tackling quality issues in terms of the teaching and learning [Kofi is my principal educator when it comes to how primary stuff works – it is otherwise something of a foreign country for me!] and some requests to help with teacher training in the area, we are looking at Maronka becoming a centre of excellence and really being put on the map.
Obai is inordinately proud of the development in his village and in turn, his hard work and total commitment to his people make working with the Maronka community always productive and very encouraging.
The appreciation of the community women was demonstrated on my last night there last week with all night dancing. Not sure there was quite so much work done the next day as there usually is.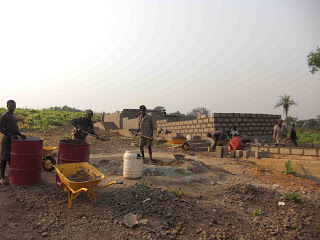 Obai's right hand man and younger brother, Alhaji, hard at work making bricks for the school building.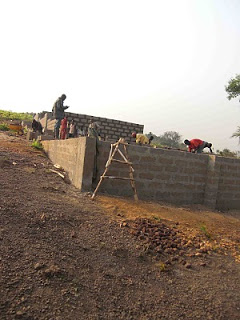 The new building seen from the side. The community are providing all the labour for this project in return for 'food for work' but no pay.