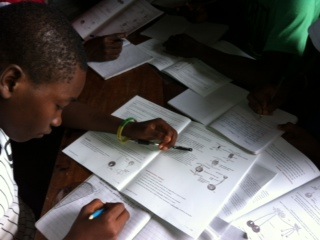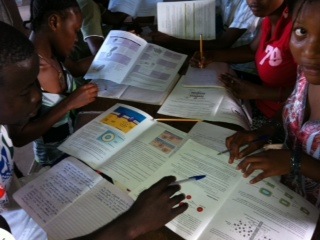 Matt's biology booklets in action – the kids love them
Matthew Herridge, Biochemistry graduate, volunteered with EducAid last year in the spring term with his friend Harry. He was village doctor, class 4 teacher and Biology tutor. On his return to the UK, he continued his work on the Biology materials rewrite. With retired British teacher, Ken Hall, they have turned the kids' experience of biology upside down. There has been a historic problem with Biology here because the kids just don't believe it is a subject people can pass. They have this year proved that this is not the case and the kids have done excellently in the WASSCE and Matthew has carried on his support, even badgering his grandparents into funding the printing of his new Biology booklets.
The kids love them and are really confident now that biology is doable!
Thank you Matthew. Thank you Matthew's grandparents!
We are trying to book him for chemistry in the summer when he finishes his Chemistry PGCE : )
If you are interested in knowing more about EducAid's work with vulnerable Sierra Leoneans, please go to www.educaid.org.uk and www.sierraleonegirls.blogspot.com