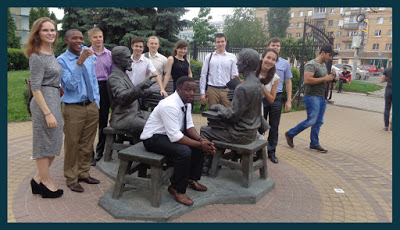 Opportunity, chance, and fortune can play such a big part in Sierra Leone sometimes. The proximity of absolute poverty to daily life means that only the smallest bump in the road can lead to genuinely terrible consequences. Musa Koroma, on leaving Bo School due to unpaid school fees, faced a bleak future that so many bright and talented young people in Sierra Leone face: a system unable to support them in their pursuit of bettering themselves. Complete with a drive and ability to forge a constructive and positive future, but without the tools that we consider as an absolute human right, Musa was faced with very few options.
Opportunities, however, come in all shapes and sizes. Living with an aunt in Freetown, teaching her children on the promise of renewing his school fees but without holding up her end of the bargain, Musa bumped in to some students without uniform.
"I asked one of them whether they were university students, they told me that they weren't but that they were students of EducAid Sierra Leone. One was so bold and told me all the details about how the school operates and what are their fees."
Entrepreneurialism, a passion and ability for education, and a natural inquisitiveness brought Musa to EducAid. He was filled by a desire to better his situation, and he knew that education was the key. By all accounts, he was immediately identified as the kind of student that we look for: self-driven, and able, and humble.
In a letter to his sponsors, Robert and Kay Vincent from the UK, and Miriam and James of EducAid, Musa thanked them for their support upon news of his latest achievement: Musa has just graduated with a bachelor degree in Civil Engineering from the St. Petersburg State University in Russia.
"A journey started 15 yrs ago finally has ended with honor, glory, pride, hope, jubilations and the triumphant of joy of being part of a family like my family, the EducAid family, the family of Robert and Kay Vincent all these years. In my thoughts as deeply rooted in me from the day I became an EducAidian I knew that only the best comes out of the most sacred mind of men and women in our generations of academic pursuement and EducAid family my alma mater had always being in that center of seeing those who want to be of values in a society to achieve their dreams and my dream of becoming an engineer has been achieved today. Today I have defended my degree in civil engineering and architecture. This didn't come as just a dream but the enthusiasm and the use of confidence instilled in us by the teachers of EducAid and the country director of our beloved institution, Miriam Mason-Sesay. We were thought to know and believe that hard work pays and that no one is born to remain subjected to the abject lineage of poverty and disease. I have the highest esteem of love and commitment to both my country and my school and with the amount of values of leadership qualities inculcated in me through holistic learning from EducAid and the people I have mingled with in Russia from all kinds of back grounds, I have the privilege to say that I'm strong enough to defend myself, my country and the most lovable people around me. The teachers like Gaza, Mr. Bangura, Mr SIK, the late SS DEM, Dr. Sean, Mr. Bailay, Mr. Deen, Miriam Mason-Sesay, and many more gave us the heart that we can be whosoever we want to become in this life. They inspired us, they gave us the key to succeed with pride and the love of humanity. They told us teamwork matters and is the fastest way to attend to a destination. Words are not enough to describe the type of hopes you guys instilled in us, but just like to say thank you guys for all your sacrifices and the love.
Yesterday we defended our degrees in the presence of representatives from the ministry of education Russia, Deans of faculties and rector of the university. They were impressed by our presentations and the hard works all these yrs. At the end we were all awarded scholarship to continue with masters in the following academic yr. We all defended excellently and the dean made a party where I showed some Sierra Leonean moves (dance), lol. It was one of the happiest days in my life and I just wanna say to Kay & Robert Vincent, Miriam, James Boardman, and all the staff members of our alma mater, EducAid beloved THANK YOU GUYS WE MADE IT AT LAST."
A beautiful signoff from Musa, and a wonderful story. Congratulations to Musa for his achievement, and best of luck as he continues his educational career in Russia. All of the EducAid staff and community are so very proud of what you have achieved.
We will keep doing what we are doing to help those in Sierra Leone who do not have the possibility to better themselves, and Musa will be the leading example that we point to when they lose faith in what they are working towards.
This week I read the Annual report that is submitted to the Charities Commission, and it reminds me of all of the amazing things that EducAid does to help some of the most vulnerable people in the entire world. If you would like to take a read, you can do so here.