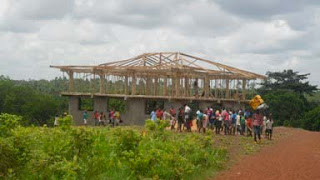 Girls' Safe House in Maronka – under construction.
To chronicle the ups and downs of all the preparations and day to day functioning of the Girls' Safe House in Maronka, we have set up a new blog: www.sierraleonegirls.blogspot.com
Have a look and see what you think.
This new project responds to many of the challenges and issues that we have faced before, in particular with regards to women achieving their full potential in education, by seeking to pre-empt so many of the elements of society which threaten women's self esteem and ambition.
If you are interested in knowing more about EducAid's work with vulnerable young Sierra Leoneans, please go to www.educaid.org.uk