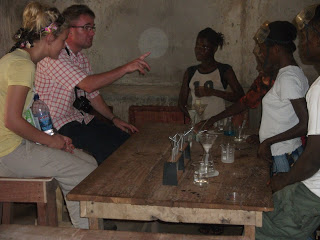 Rupert and his daughter Georgie talk with the scientists in Rolal
I have had the privilege of visiting Port Loko 5 times over the past 4 years, and have always left wanting to go back and spend more time there. The last visit in April was the longest and the most enjoyable – my son (Tom) and I spent 2 weeks in the country and stayed at Rolal for 1 of them.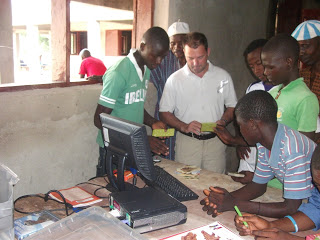 Stefan listens to the 'Virtual palaeontologists'
at the opening of the Rolal Senior Secondary School
We have great memories of being part of the EducAid family – we sang the school song and played rugby (of sorts) also. Whilst the food was a bit alien to us, we loved the way that we were welcomed by everyone there: pupils and staff alike. We want to apologise to Mr SS for being late for the staff briefings though!
We were struck by the potential for moving things forward by focusing on the quality of life for the pupils and the necessity for training the staff. It is for these reasons that we are really pleased to support the Maronka Safe House and Rolal Teacher Resource Centre over the next 3 years.
These are great examples of how EducAid can lead the way and we are delighted to stay involved. We are also hoping to visit again although it may not be until 2012.
Thanks Miriam and everyone at EducAid.
Rupert Eastell