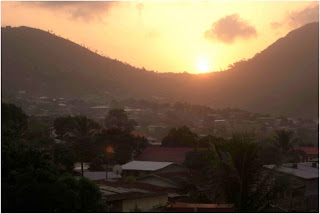 The sun rising over the Malama Hills – the view from EducAid Lumley [Freetown].

A couple of weeks ago, I posted Juldeh's success and consequent plight on the blog. He had gained a place at Fourah Bay College, successfully saved £250 over the year [almost unheard of here] and was in the happy position of needing an additional £250 plus maintenance to make engineering studies become a reality.
Through the generosity of some friends of EducAid, he has achieved this first step of his dream and he is now part of the FBC engineering department. Well done Juldeh and thank you to his supporters.
Today, another of our young junior staff came to see me with a similar story. Emmanuel Bai Sesay has gained a place at IPAM [The Institute of Public Administration Management] to study Applied Accounting and has saved £200 of the £400 he requires. He has achieved this by working as a driver by night and a teacher by day, despite his father suddenly disowning him last year and refusing him further accommodation and support.
It is these little pictures of courage and determination that make it quite impossible to turn our backs on these young people. While they continue the fight, we must continue beside them.
Congratulations Emmanuel and good luck.
Meanwhile, if anyone is in the position to help with fees or maintenance, we will be extremely grateful.
For more information about EducAid's work, please see www.educaid.org.uk