But….staff and students are joining in with great enthusiasm.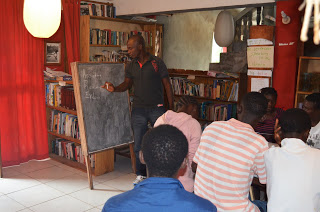 They have taken over the library.
Aruna Bangura of the leadership team underwent training and is now delivering
sessions on key thinking skills for debating.
Bhumi Purohit, of SLEEP an American based organisation which has been working in partnership with EducAid for some time, is over in Sierra Leone for a few weeks and is using her time to train some staff and students in debating techniques [and in teaching debating techniques].
There is a lot of research showing the fantastic benefits of debate training in terms of thinking and analytical skills as well as behavioural and attitudinal change. We look forward to those being trained this week and next benefitting from this but also, we plan to role out the opportunity to as many other youngsters as we can during the coming year.
This is what a couple of the youngsters have to say about it, themselves:
'I am enjoying the programme so much because we are exchanging ideas' says Isatu Kamara.
'The thing I enjoyed the most during the training was the interaction and discussion. I specially liked working in groups,' said Baimba S Kamara.
'I like the fact that I can discuss with the staff too,' says Mohamed E Bangura.


A great opportunity. Thank you so much Bhumi for the initiative and for so willingly giving your time and expertise.
If you are interested in knowing more about EducAid's work with vulnerable young people, please go to www.educaid.org.uk and www.sierraleone.blogspot.com