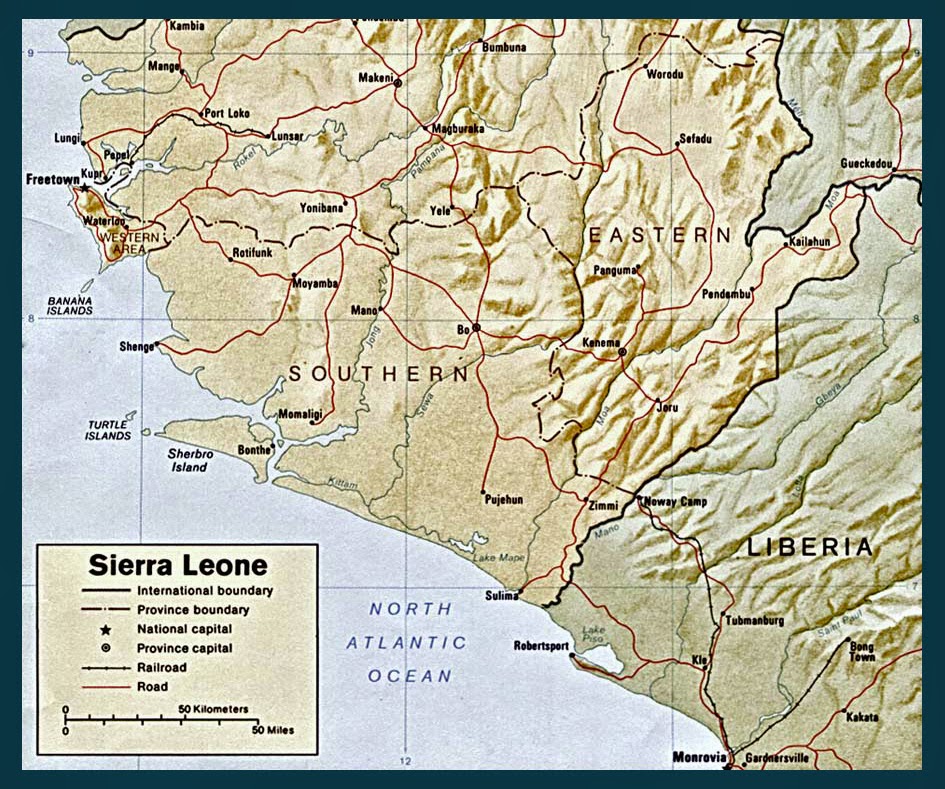 EducAid's Rogbere School was founded in 2010 and usually educates more than 320 students. In 2013, A Call to Business built and opened a home for orphans, many of who are disabled in one way or another, next to the school. We are delighted to be providing education to some of these youngsters.
Unfortunately, numbers in the school now stand at only 46 – 32 boys and 14 girls – around 15% of it's usual contingent. With 19 staff present, the numbers have remained high despite student numbers dropping. There is a real risk of losing these valuable teachers to other schools or industries, so we have decided that it is most important to keep them in our employ so that we can begin straight back with educating our students once the outbreak has been declared over.
There is, however, no chance for EducAid staff to have been sitting on their laurels. Through our Education by Podcast programme, and our Ebola sensitisation drives, they have been working tirelessly to combat the effects and spread of Ebola. All staff are also working to personal study targets and a professional development programme has been running for all staff throughout the State of Emergency
Suma is the site coordinator at Rogbere School, and this week he spoke with Chief Alie Conteh about the situation in Rogbere community.
As Chief, it is Alie Conteh's duty to look after the 500 people in his community and to ensure their wellbeing. He has worked with Miriam, Suma, and EducAid to ensure that there is a good relationship between the schools and the community, ensuring that both parties benefit from the relationship. Thank you Suma for the insightful questioning.
As a chief, how did you feel when you heard about Ebola?
I felt bad. Ebola is a killer disease. We pray every day for the end of this sickness. If Ebola enters your house, everybody will die. I am in great fear.

What are the main challenges in your community during this Ebola period?
Soooo many, my brother. The first one is medical facilities, second is our basic food due to the persistent lock down. Nobody is allowed to go to Freetown and nobody from Freetown to visit you. Even if you prepare a small garden to sustain yourself, there will be no way to sell the produce because the roads are blocked.

What strategies have you put in place for the community to be safe since the beginning of this outbreak?
We are very lucky to have EducAid here. When the Ebola disease came down to Freetown, Suma called a meeting of all the elders in the community. Miriam was there and explained to us some of the precautionary measures we should put in place to stop the disease from coming our way. I have also ensured that we do in my community what the president is asking us to do and it is going on well, for instance: frequent hand washing, remembering Sierra Leone in our prayers, and so on. EducAid teachers are doing an awareness every Monday and temperature checking which gives every body hope and confidence in the community

Have you heard of any suspected cases of Ebola?
No. I have not heard of any one in my community.
How about the neighbouring communities?
Yes. Many of them, even one very close to us here in Fogbo village.
And what was your reaction?
Checkpoints to and from the village were installed. Compulsory hand-washing to all passers-by was instituted.

How many people have died during this period in your community? And how did you bury them?
I know of one woman. When I was told about her death I called 117, the alert centre number which was given to us. While waiting for them, some of the family members washed and dressed the corpse. That was the unfortunate thing I heard about some of the people in my village.

So what did you do when you got that information?
Initially, there was a meeting we held up at the school with EducAid teachers and the community elders. We agreed on certain bye-laws and that violators of any of the laws should pay a fine of le 500,000. Such is one of the laws, therefore the fine was levied and a quarantined period of 7 days was given to the family.

What was her lab result?
They said it was not Ebola.

Do you have support from the government with chlorine, veronica buckets, or infrared thermometer as they use in other communities?
No. we have never benefited from any of these, except that A Call to Business gave us some thermometers for which we are very grateful.

Do you have any organisation working in your community? If yes, how have they helped in protecting your community?
Yes. A Call to Business, EducAid, and Corner Stone. EducAid has been very instrumental in educating us about Ebola. They actually made us, and me in particular, see the seriousness of this disease. We appreciate them, and God will bless them for that. Second is A Call to Business; they sent us thermometers, a few veronica buckets, and chlorine; we thank them also.

And Corner Stone?
They have not done anything concerning this Ebola for us.

How do you think the community will be after Ebola?
Happy, and I want to give many thanks to my people for making sure we are safe throughout the outbreak.
How would you assess EducAid to other organisations that you know?
We are poor, we do not have anything, but they are ready to help the community. EducAid is a good organisation for us and we are happy to be with them. We say many thanks to Miriam and the teachers.
Reading the Chief's words reiterates how important EducAid's impact is on the small localities where we run our Ebola Sensitisation – and there are many, but also how little support these rural communities are receiving in advance of the spread of Ebola. The response effort has been a constant game of catch-up from both the government and the international community. Despite the great work of charities like EducAid and A Call to Business, the lack of education that persists in the country reveals a distrust of those trying to help, and an inability or unwillingness to follow the procedures that can be life saving. It is only through the outreach programmes such as our Ebola sensitisation that we can reinforce the importance of following such measures.
We hope that you can see the true value of the work that we are doing at EducAid. We've had to find new ways to help the most vulnerable members of society, but we can see our work having important and lasting impact.
We're fighting for a life #AfterEbola, please help.