EducAid SL's first Post Covid-19 in-country fundraising event was all about the girls. Highlighting the plight and potential of girls in Sierra Leone, the event which was hosted by the British High Commissioner was the joint effort of some amazing partnerships.
An event which was the brainchild of the Country Director Miriam Mason Sessay, The British High Commissioner to SL, Ms Lisa Chesney and the dynamic Ms Nicky Spencer Coker a keen gender advocate and Head of Legal at Purposeful, soon took a life of its own as a team headed by Mrs Randa Swaid a prolific Entrepreneur and highly successful multi business owner partnered with Mrs Sachi Hemnani of the Padi brand to head the fundraising and food committee.
In less than two weeks this formidable team had leveraged their joint relationships, organised teams and raised £15,000 in cash and in kind donations, well exceeding their target of £12,000.
Africell our communications partner exceeded all expectations by providing in kind donations worth over $3000, providing a digital back drop to showcase the song which was the focus of the fundraising cocktail event.
A 12 man crew worked tirelessly on the 10th and the 11th which was selected as the event date because it was the International day of the girl child. Providing staging, lighting and sound for the event as well as pull up banners showcasing our Strong Girls Incubator (SGI) alumni empowerment journeys, they quickly become members of our EducAid family and took ownership of the event and ensured it was a resounding success with every attention to detail.
The current SGI students sent video messages to musicians requesting their presence at the event and they were so persuasive that they bagged 'Famous' and 'Star Zee', two of the most popular artists in Sierra Leone to perform pro bono at the event.
With over 200 guests in attendance the cocktail event was lively with delicious food donated by local hotels, restaurants and friends of our super food committee team and Ms Nicky Spencer Coker compering the event it was bound to be top notch.
The highlight of the event was seeing everyone dancing to the sound of the song titled "We are like diamonds" well after the end of the programme.
Indeed the fundraising event at the British High Commissioner's residence at Runnymead, Hill Station, will be talked about for a long time to come partly because, as usual, our current and past EducAid girls who played the roles of Ushers and servers showcased what really happens when we work together to highlight the plight of our girls and harness their potential enabling them to increase the human capital dividend in our beautiful Sierra Leone, the diamond of Africa.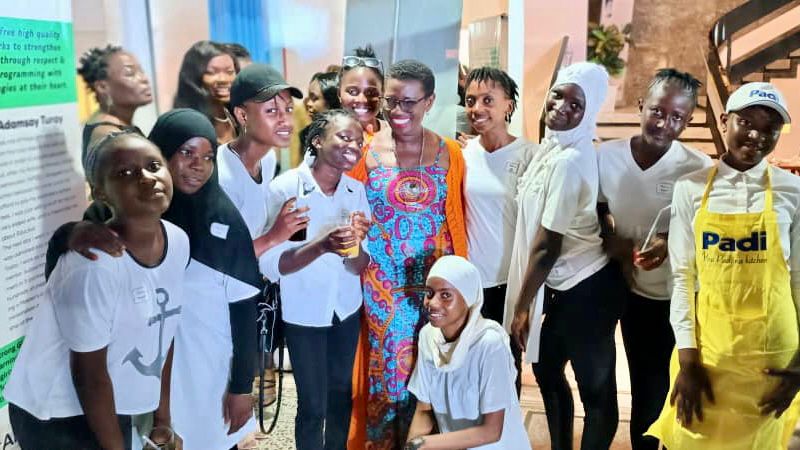 A massive thank you to the British High Commission events team headed by Ursula and Ella who kept everything moving along with regular catch up meetings. Swiss Hotel, thank you for acting as our physical point of sale agent. Your staff were so polite and helpful.
To Ventix our online ticket sale agent who updated their digital platform to meet our needs.
To our major donors College Of Digital Technology, Westpoint Electrical, Padi, King's beverages, we appreciate your generous donations.
To our online graphic designer Mahek Henmani who spent hours creating our invitations and, tickets and online promotional materials you are one in a million. Thank you for your patience with the many versions and edits as ideas evolved.
To Steve Revington and Saidat Abari who created and performed the wonderfully inspirational song and video, 'We are like diamonds,' how can we thank you enough? You created the opening for the whole event. The song and video will shortly be available for purchase and the video will be on YouTube soon.
To our guests who bought tickets, bid at our auctions and played the lucky dip your attendance and participation made this event one we will never forget. Thank you for attending.
All of this amazing togetherness and energy has made it possible for EducAid to recruit more girls into the Strong Girls Incubator.  The SGI provides an alternative route into secondary education for girls who find themselves at secondary age but below secondary readiness, otherwise obliged to choose to stay out of school or go and join the 6 or 7 year olds.  The SGI is an accelerated learning programme to build literacy, numeracy, self-esteem and sisterhood, sending girls into the mainstream classes confident and competent to achieve their full potential. This year, EducAid's goal is to support 95 girls through the SGI and this event has hugely helped in achieving this.
#TogetherWeCan
#GirlsEmpowerment
#EducAidFamily