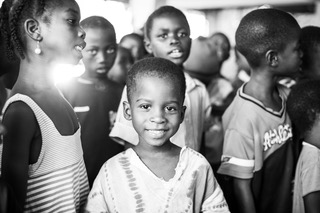 All across the western world, children are excited about the coming of Santa, about the different promises of gifts and goodies due at Christmas. The deeper message of Christmas, being one of self-giving, comes with a significant contradiction and clash with the materialistic preoccupations of most at this time. New Year too offers the opportunity for reflection and recommitment to better life goals but the celebrations rarely give space for much beyond temporary revelry and excitement.
In Sierra Leone, there are the westernised few who will present each other with gifts but it is not the enormous deal it is in the West. For the wealthier, the most important thing is to have new clothes, lots of special food and plentiful loud music wherever you turn. The focus will not be on gifts here but, even so, what are we doing with our young people to help them engage with the deeper opportunities this holiday season?
Sierra Leone seems to have so many problems it is wonderful when we get something right and something so significant as religious tolerance. Sierra Leone is approximately 40% Christian and 60% Muslim with a few people mixing traditional beliefs with their formal religious practice. Religious tolerance is the absolute norm in Sierra Leone. The Muslims will help the Christians celebrate Christmas and Easter and the Christians will help the Muslims celebrate the various Islamic holy days. As educators, we take the opportunity to invite the Christians to share with their Muslim brothers and sisters, in December, about the Christmas story and about the love demonstrated by a God who joins his people and walks with them on earth. We look for every opportunity to strengthen the values of respect and love between all and we refuse the harsh messages of judgement and condemnation that come with extremist versions of all religions.
In addition to this opportunity to celebrate each other's joy and beliefs, all at EducAid will once again be committing ourselves to our deeply held engagement with the whole idea of Ubuntu. We have borrowed this from southern Africa but it has become a key part of how we live and every celebration of love is an opportunity to choose this way of life again.
We tell a story to illustrate the Ubuntu principle:
A man showed a group of children a basket of fruit under a tree at a small distance from where they were sitting and told them that the first to reach it could have all the fruit. The children stood up, held each other by the hand and ran over together to claim their prize. The man looked surprised and asked them why the strongest, fastest and biggest had not just run and taken the lot. They looked back at him in shock and asked, 'How can I be happy, if those around me are sad?'
We will be bringing Ubuntu into every aspect of what we do over the Christmas holidays to make sure it is clear that this is the true spirit of the holiday season. While gifts are fun, when not everybody has them, it creates a two tier society where some are left out and only some feel special. We will be encouraging all of our young people to do kind things instead of giving gifts and the gift they will receive in turn will be the peace of mind that comes with being loving and generous.
We take this opportunity to wish all of the EducAid family: staff, students, donors, friends and well-wishers the real joy of a very Happy Christmas and a wonderful 2017!