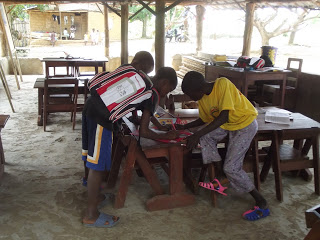 I was visited a few days ago by the head of the Sierra Leone Teachers' Union (SLTU) and was very encouraged to receive this email from him this morning:
Miriam,
It was good to see educaid and the effort you are making to get our children go to schjool and get our teachers trained in a way to help the education process.
SLTU will be prepared to be with you for the mutual benefits of our joint programmes and we are prepared to share with you at all stages of our work to build a strong education process in Sierra Leone.
Please let us know of you schedule of programmes to ensure we take part in some of them to learn of them and contribute on how to strengthen each other.
Thank you very much for your time and effort so far.
Davidson Kuyateh
We look forward to a constructive partnership where we all work to build capacity and support the transformation of competence within the education sector here.