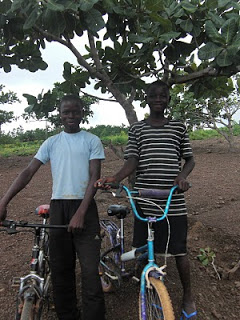 Rightly proud of their achievement!
Another happy Maronka tale…
Maronka continues to be a community where everyone can do their best. We started a primary school, pretty much by mistake, some six years ago when we gave the chief some blackboards and chalk to start some alphabet classes for the little ones who were to small to walk to the nearby government school. Now we run a school for 120+ children from around the whole area and further afield.
We have taken over 20 children from all sorts of difficult backgrounds and the staff team [nearly all our ex-students] and the chief, Obai Santigie, with the village community, raise them as their own. Little by little, we have seen some really awkward children be turned round and enabled to become their 'best selves'.
Across the country, the culture of dependence and helplessness has been generated by the omnipresence of the International NGOs [non governmental organisations – what we used to call charities]. In contrast, education is a key development and empowerment activity and can undermine this tendency.
I came across an admirable sign of enterprise the other day: a couple of the lads who have been through the primary school and are now making their way each day to the secondary school in Rolal [3 miles away] have taken things into their own hands. They are neither of them particularly academic but the whole atmosphere in EducAid is so positive and supportive that whatever your skills and abilities they are recognised and encouraged. Off their own bat, these two have made enough charcoal and sold it to buy themselves bikes which they now use to reduce the trek to school.
This is a great sign for their future survival and their willingness to help themselves. All they needed was a helping hand to stand up. Well done both!
If you are interested in knowing more about EducAid's work with vulnerable Sierra Leoneans, please go to www.educaid.org.uk