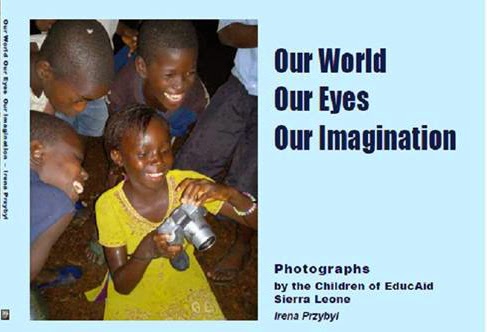 In June and July 2012 the students of EducAid Lumley, EducAid Rolal and EducAid Maronka took part in a project to learn photography. The stories of their lives in Sierra Leone along with their 'snaps' have been published by one of our most valuable volunteers, Irena Przybyl, in a book entitled .Our World, Our Eyes, Our Imagination'.
The children are extremely gracious for the help they are give, but incredibly excited about the book they are contributing to, which will help them to help themselves.
Out of the 85 children involved, only four had used a camera before. The work they produced is of a very high standard, showing life at school, traditional and interesting Sierra Leone, their homes and their communities.
The books are now available. They are beautifully put together and tell the story of our students' lives in Sierra Leone. It is a great way to support EducAid and to have something to share with friends, equally it would make a wonderful gift – simultaneously supporting our work in Sierra Leone and spreading the word of the charity.
We ask for a recommended donation of £15 plus £2.50 for postage & packaging.
There are a couple of ways to get one of these amazing books:
Cheques can be made payable to 'Our World, Our Eyes, Our Imagination' – inbox Irena and she'll pass on her address
Transfer direct to Barclays sort code: 20 72 67 Account: 93616703 – please put your name as the reference so that we can identify who the payment has come from.

Inbox or email Irena your name, address, qty of books and amount transferred and once received she will post out your book(s).
You can contact Irena through this link here, and the facebook page for 'Our World, Our Eyes, Our Imagination' is here.
Thank you so much to Irena for making this happen, and for creating such a wonderful collection of stories and pictures.