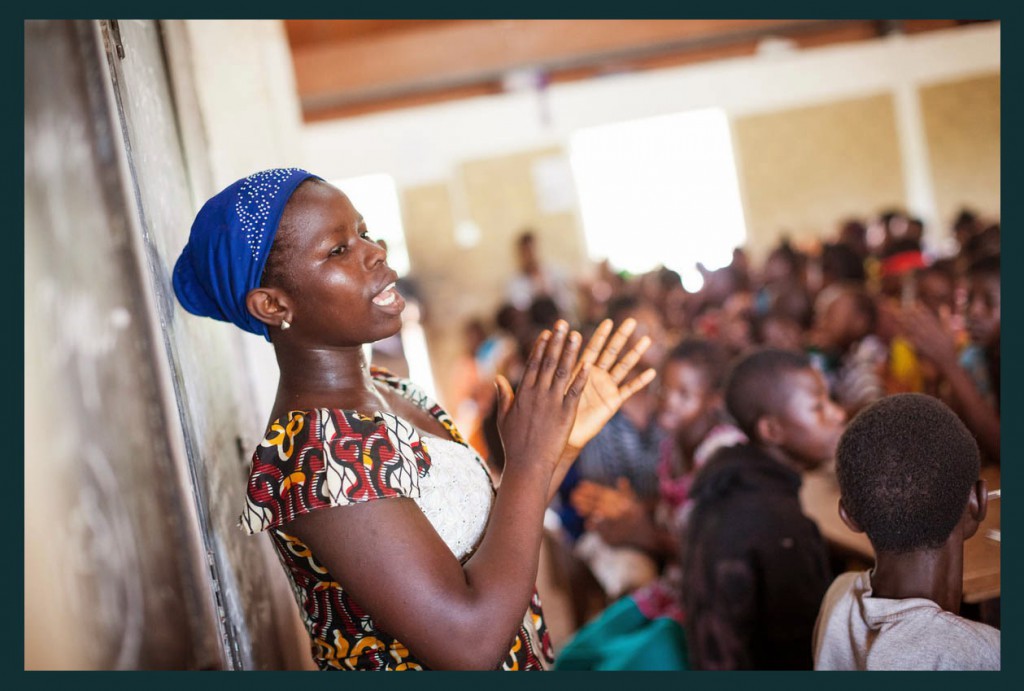 Few
things illustrate the impact of our school's education greater than the
existence of our Quality Enhancement Programmes, the QEP & QEPM. Sierra
Leonean schools from around the country request EducAid to run these in-depth
training courses. In the programme for Junior Secondary Schools (QEP), and for
Primary Schools (QEPM) our team trains teachers, principles and communities in a
collaborative approach to engaging students whilst simultaneously developing
their curriculums for educational and personal student growth. The importance
that EducAid lays on the latter of these two aspects is the core of our
holistic programme of learning.
In both
of our programmes, we focus the teachers on their subject content, and
introduce active and participatory methodologies whilst ensuring that teachers
are delivering 100% accurate content. We believe that discipline is a personal
choice on the part of students, and not one to be forced through sanctions or
violence. By providing students with an engaging environment and empowering
them with choice, we see a much greater participation and ownership of studies.
Children and students are the same the world over – if you allow them to actively
engage with a subject, both through the methodology and active participation,
they will invariably contribute in a much more sincere and dedicated manner.
Going
further than the content and methodologies of their education, we also ask
teachers to challenge social inequalities within the classroom. We believe
that, by addressing gender imbalance from within schools, we can initiate a
major cultural change in the next generation of Sierra Leoneans. Below is a
more detailed overview of the programmes and their impact.
Quality Enhancement
Programme
The QEP focuses on the course and content of classes. Because education has so
long been neglected in Sierra Leone, the QEP has enabled us to instrument
changes for huge number of children.
This programme has
significance for over 1850 girls and 1500 boys, making a total of over 3350
children from 13 schools in rural Port Loko and 1 from Kono.
Quality Enhancement
Programme in Maronka for primary schools
The Quality Enhancement Programme in Maronka is a support programme for primary
schools wishing to partner with EducAid with the intention of enhancing the
quality of the teaching and learning in their schools. The idea of the QEPM is
to engage with the whole school and community to encourage all actors to step
up their game and ensure that the students get the best possible education.
After an initial
engagement with the community, principal and staff, class teachers are invited
to the Maronka Teacher Training Centre for one-week training sessions in
literacy teaching followed by one-week training sessions in numeracy teaching.
These sessions are designed for classes 1 and 2 teachers together and then
classes 3 and 4 with the final session for teachers of classes 5 and 6.
Once the teachers have
gone back to their schools, EducAid staff go to spend a day in each
participating school in order to see the impact of the trainings. Very quickly,
we have found that there are significant changes in all participating schools
and that there is great appreciation from both staff and students.
Despite
the chaos of Ebola, EducAid has continued these programmes while schools are
closed. We have identified this window as an opportunity to instil these good
practices in to the teachers whilst they are unoccupied by day-to-day duties of
the classroom.
Recently,
we applied to the EU for a grant to boost this programme and last week we were
approved for the project. They will be part-funding some of our operations in
this project; for us, it's not only the financial support that is positive, but
the recognition of the good work that we are doing is pleasing for the whole
organisation. This grant will enable us to further spread the experience and
success that EducAid has seen in the past to new schools in the future.
Exciting
times ahead. We'll bring you updates on the QEP and QEPM over the coming months
to keep you up to date with how we are impacting Sierra Leone as a whole.
You can
begin to see the ways in which we are building Sierra Leone for a better future
after Ebola. Whilst the EU grant will help us to propel this programme
throughout the country, we will not be able to use any of this money to boost
our #AfterEbola programmes.
With 14
of students currently in quarantine, our OICC is running near capacity. We
desperately need your support to continue these massive steps we're taking to
stopping Ebola in Sierra Leone.