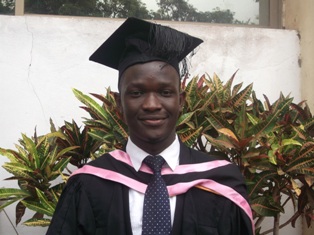 This morning, I received the following note from one of our young stars, Abdul Noah Mansaray. Many young people in Sierra Leone finish their secondary education well into their early twenties but due to his diligence and intelligence, Abdul Noah finished at 16. He was fortunate to gain sponsors from among EducAid's friends and went straight up to Fourah Bay College. The youngest in his class but emerging at the top, this is what he has to say for himself:
Throughout my educational career I have worked hard to prove myself as a responsible, capable and dedicated student. Receiving this award just crowned it all…
I entered Fourah Bay College in 2008 with a well structured and positive mindset gotten from my Alma Mater 'EducAid'.
Fourah Bay College is an institution that is blessed with academic professors and doctors who acquired their educational qualifications from renowned universities in the UK, US and other European countries.
But sadly, the numerous challenges that are embedded in this once 'Athens of West Africa' will attempt to impair your ambition of acquiring academic success before even starting a course. An institution where ICT fees are paid but you will never have access to a desktop not to say Laptop or access to Internet facility, development fees are paid yet some students will have to stand to take lectures etc.
My friends in my class called me and Tamu 'computer wizards' with just the little knowledge we have in ICT, so in times of Research related assignments they had to come around us begging to help them out because for them to even open a web page seemed very difficult. So we count ourselves blessed.
The access that I had to computers from an early stage as a young boy in Group 2 in EducAid, which our friends never had, helped me faced some of these challenges.
This served as an inspiration to me, despite these inadequacies I worked proficiently to achieve my dream of becoming a responsible Accountant.
As it is said, the reward for hard work is success; I led my class with a 1:1 in Accounting and Finance. The University of Sierra Leone in collaboration with the Sierra Leone Commercial Bank Ltd presented me an award for an outstanding Academic Performance at a banquet in Freetown.
I must admit that this achievement would not have been possible if not for the strong academic and moral foundation that I got from EducAid. I THEREFORE DEDICATE THIS AWARD 'TO THE HOUSE THAT BUILT ME' (EducAid).
I AM PLEASED TO BE ONE OF YOURS.
We are very proud of Abdul Noah and wish him every success in all he does going forwards. Congratulations and Good Luck!