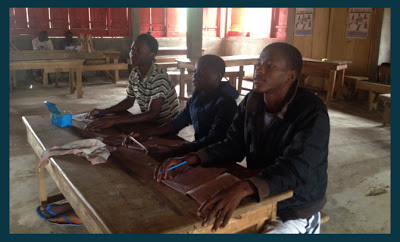 The World Bank identifies "orphans and vulnerable children" as a group requiring special consideration and intervention to protect them from a high likelihood of "negative outcomes." These children "are more exposed to risks than their peers" and "most likely to fall through the cracks of regular programs." These are the children that experience "loss of their education, morbidity, and malnutrition, at higher rates than do their peers."
Sometimes, catastrophic events push large numbers of children very suddenly into this high-risk group. One such event was the 2014 Ebola outbreak in West Africa.
And Sillah was one of those children.
At the beginning of the 2014 summer holidays, Sillah made the hour and a half journey by road to return home from his school. He was looking forward to a pleasant summer with his family. But soon after he arrived, the Sierra Leonean government declared a three-day lockdown.
Sillah's father, a pharmacist with a good career that enabled him to pay the school fees for his son's education, was asked to volunteer. Eager to help, he agreed to be a "sensitization" volunteer – someone who would provide information about the virus and limiting the spread of disease to members of the local community.
When he arrived at the center to begin volunteering, it was immediately clear that manpower was urgently needed for a different, more difficult and dangerous job – burials. Wanting to help anywhere he could, Sillah's father joined the burial team and was tasked with collecting and carrying bodies from their final resting place to the gravesites. Typical of early-response health services during the epidemic, he was not provided with adequate training. Nor was he given proper protective gear to use while handling infected bodies.
Almost inevitably, he fell ill within a few days.
Sillah took his father to the hospital and two days later the entire family was quarantined – Sillah, his mother, his 12 year-old brother, and his three sisters (16 years, 10 years, and 19 months old) were all restricted to their home for 21 days – the maximum window of time for incubation of the virus (http://www.who.int/mediacentre/factsheets/fs103/en/). If they were infected, they would show symptoms within those first 21 days and be transferred to a hospital for treatment. So they began to wait.
On the 17th day, the entire family began showing symptoms of the dreaded disease. They were taken to a hospital and crowded into an already over-taxed, under-resourced care center.
Only Sillah and his mother managed to survive.
Reeling from the loss of four siblings and one of his parents, Sillah was also worried about his future. Without his father's income, he would not be able to continue his education. The disease, which had already taken so much from him, was going to take his future as well.
Fortunately, a journalist told Sillah about EducAid Sierra Leone, a system of schools run by World of Children Honoree Miriam Mason-Sesay. He pointed Sillah in the right direction and recommended he get in touch.
EducAid welcomed Sillah with open arms and he moved to the school in December. When he arrived, he was still very emotional, grieving his many losses. But he settled in as well as he could and began the process of resuming his studies.
Miriam immediately noted that, "he is generally amazingly cheerful and threw himself into being part of things: football, wood collecting, learning, cooking, whatever it was." While it appeared that his previous school had provided poor mathematics lessons, he jumped into the subject and began tackling it with enthusiasm. "He has a quiet confidence," Miriam said. "He will do well."
Though a merciless epidemic caused Sillah unfathomable loss and thrust him into a "category" that made him likely to have negative future outcomes, EducAid was there to stop his falling through the cracks. This is truly what it means to protect children. World of Children Award is honored to support and stand with Miriam, EducAid, and all of their donors and community in protecting children – today by providing a safe place to stay and for the future, by providing the education they will need to survive and thrive.
Donate today to help protect more children worldwide: www.mydonate.bt.com/EducAidSL
Read more about Miriam's 2015 World of Education Award: www.worldofchildren.org/honoree/miriam-mason-sesay
Learn more about EducAid by visiting their website: www.educaid.org.uk
This blog post is part of the World of Children Award Child Protection Blog Carnival. The Blog Carnival pulls together stories that represent the global breadth and depth of thinking and on-the-ground work that we and our fellow World of Children Award Honoree organizations are providing to protect children.
Visit the Blog Carnival to read stories from fellow Honoree programs protecting children from child-trafficking, abuse, neglect, and the vulnerabilities associated with being poor, orphaned, or disabled in countries as widespread as Colombia, Nepal, Sierra Leone, Mexico, India, Ukraine, and Haiti.