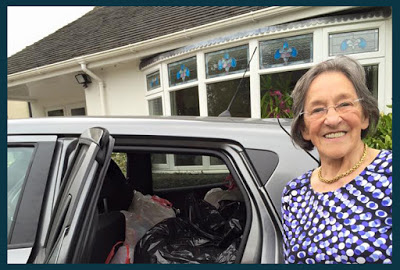 Back in April we wrote about the ladies from District 9 of the Inner Wheels Club. They had hand-made over 400 sleeping bags that eventually contributed to the largest shipment of donations that we've ever sent to Sierra Leone. This is what I wrote at the time:
"Great fun was had by the ladies from Inner Wheel Clubs. From all across District 9, UK (Berkshire, Buckinghamshire and Oxfordshire) they got together to 'Sew for Sierra Leone' on 26th February. They were busy creating over 400 cotton sleeping bags, requested by Miriam for the youngsters at EducAid's schools and Interim Care Centres.
Friendship and service are key elements of membership in Inner Wheel, a worldwide service organisation for women, and this event provided an ideal opportunity for both. There was plenty of chat and large quantities of tea were consumed as ladies gave their time to sort, cut, stitch, iron and pack for EducAid!"
It seems as though one of those ladies never stopped – Joan has gone on to create a huge number more. This inspirational and committed woman has managed to find an unlimited source of cotton, and must've been working non-stop since 26th February. When Miriam went to visit her on 17th October, Joan had made another 125 sleeping bags, and she is on the case to make many more before the container leaves London for Sierra Leone in December. What a tremendous achievement! Thank you so much Joan, our youngsters will be so grateful! Thank you to Ernie, Joan's husband, for all the help and support you must've given during the time – it all counts!
This is another incredible story of how our committe community helps us to provide a comfortable and caring home for our youngsters.