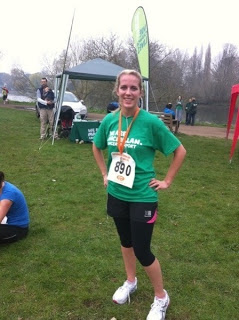 Alison in training for her big run.
Alison Higgs, long term friend of EducAid, who was last featured on this blog in a very fetching Santa outfit, is on the run again.
Alison teaches art at the Bridge Academy in Fulham and has got the whole school behind her fundraising (and awareness raising) campaign. She will be running the Munro half marathon (all uphill – the woman must be mad!) to raise £2000 for EducAid.
All the very best with your training and getting the cash in!
Many many thanks.
If you are interested in knowing more about EducAid's work with vulnerable young Sierra Leoneans, please go to
www.educaid.org.uk