Musa Koroma, former EducAid student won a scholarship to go to study engineering in Russia some months ago. It has been an almighty challenge to get from that point to the point of actual departure never mind arrival in situ.
After endless delays due to diplomatic problems between the two governments, numerous additional charges to ensure his place not being lost and then en route [via Egypt! where his laptop got smashed and he was forced to use most of his small cash supply to buy a return ticket in order to avoid deportation back to Sierra Leone] Musa has now arrived in Veronish, Russia.
He is due to learn Russian for 6 months and then to settle in to engineering studies in his newly acquired language. Some good news is that a former EducAid teacher has gone ahead of him and is doing his masters studies in Moscow and has taken a hand in looking after him and also a young Angolan student is sharing his room with him and seems ready to protect his interests too.
This is clearly an amazing opportunity for Musa if he can get through these very difficult early stages. He leaves behind the extraordinarily corrupt Sierra Leonean tertiary system and can look forward to acquiring a genuine and genuinely useful qualification.
Great thanks go to Musa's British sponsors who continue to cover half of his costs in order to make this opportunity possible. This represents a significant commitment and generosity.
We wish Musa all the very best and all courage as he goes into this new challenge, opportunity and cultural shock! Musa comes originally from a small village in the far east of Sierra Leone. Since his father died, the rest of his family have disowned him. It is only his education that will enable him to stand alone and make a life for himself, overcoming the poverty of his origins.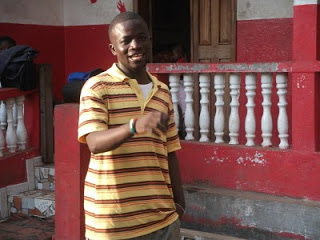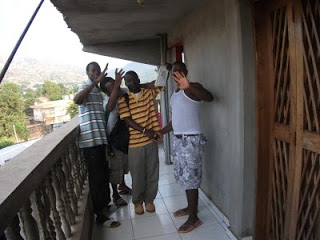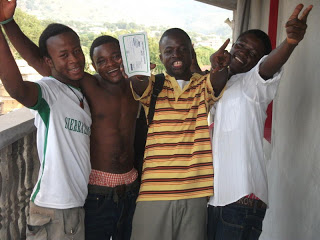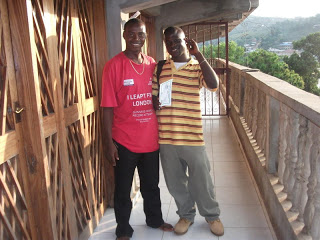 Musa full of a mixture of excitement and trepidation, takes his leave of staff and students on the day of his departure.
If you are interested in knowing more about EducAid's work with vulnerable young Sierra Leoneans please go to
www.educaid.org.uk