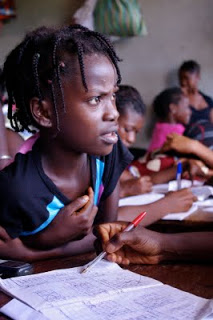 Thinking it through!
Bhumi of SLEEP, an organisation based in the United States of America has been battling away at a bid for funding to introduce a debate training programme.
Staff and students will be selected for training in research, analysis, argument construction and presentation following a programme of debate training which has seen significant improvements in many aspects of students' learning in numerous similar projects across the world.
The skills acquired will benefit the actual participants themselves but, also, the idea is that regular sessions will be undertaken with other students in both the senior secondary schools through the rest of the year.
In general, in Sierra Leone, questions, analysis, reflection, the development and ability to defend one's own opinion, are all actively discouraged. It is clear however, that without these, it is impossible for the population to participate in a genuine democratic process.
We actively encourage these fundamental skills and are very proud of our students in general. This is a wonderful opportunity for them to build up these aspects and help their peers do so to.
The topic is pertinent too. They will be discussing women's rights and participation in key institutions in Sierra Leone! Women are generally not even 2nd class citizens in most of Sierra Leone. They often come in a lowly 3rd, after their children.
If you are interested in knowing more about EducAid's work with vulnerable young Sierra Leoneans, please go to www.educaid.org.uk