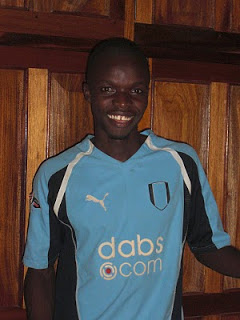 Founder pupil, Moses Tholley, in his penultimate year of engineering studies at the Fourah Bay College, is on his way to Poland for a 6 month work experience placement. Having come close on several occasions, but not being willing to participate in the required corruption, it was looking as if the foreign placement opportunities might well all pass him by. Persistence, integrity and patience have paid off. After sitting his end of year exams, submitting his thesis and electronics project, he will head off to Nigeria first for a visa and should be in situ in Poland by the beginning of September.
This placement is in recognition of an excellent standard in his studies to date and will represent a fantastic opportunity of exposure to a world beyond Sierra Leone that will stand him in excellent stead for the future.
We wish him every success as he goes.
If you are interested in knowing more about EducAid's work with vulnerable young Sierra Leoneans please go to www.educaid.org.uk