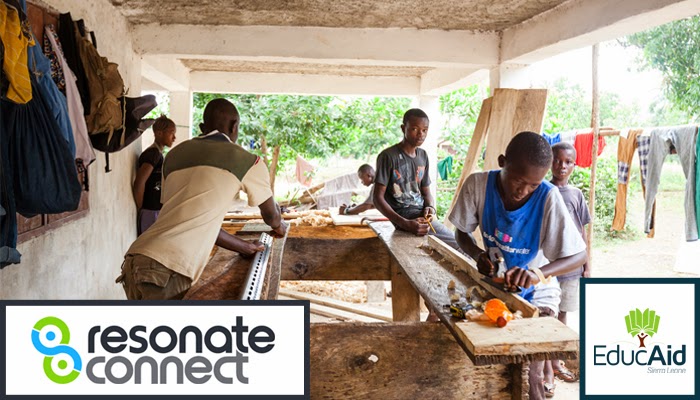 As a nation the UK has traditionally been very generous when it comes to donating money to help those in need, both domestically and internationally. According to a Charities Aid Foundation report on private donations, at 0.9% GDP the UK is second in charitable giving only to the U.S.A. Combine this figure with the amount that the government pledges with taxpayers money, you can begin to see the scale of the UK's philanthropic commitment.
The connection between the charitable and private sector has always been strong. Aside from the CSR donations, the vast majority of donors are those employed within the private sector and from those running the business within it. Companies of all sizes, from the smallest businesses to the multinationals, are contributing through donations and resources all the time. This has been no better illustrated than in the recent drive for donation of clothes and educational materials covered in a recent blog post (available here); the contribution from individuals and business alike enabled a complex logistical challenge to be completed without a hitch. The positive business ethic that permeates throughout the country affords these business owners and their employees the ability to be generous, whilst the country's social fabric commends and encourages it.
Sometimes, however, it is reasonable to wonder whether charities and businesses could collaborate in other ways. Very often, smaller charities suffer from a lack of knowledge in certain areas; for example: online communications, accounting, and reporting are all common struggles in early years. Later on in a charity's life difficult decisions regarding strategy and growth will have to be made as well. For example: whether to open that new centre; whether to take on that new member of staff; or whether to invest in that software; these all are decisions that could either push the charity on to the next level of fundraising and impact, or could drastically set the charity back if improperly handled.
These are the kinds of decisions that businesspeople make every day. As one of our partners, A Call to Business, writes on their website: "Business people are blessed with many gifts – risk taking, analytical capacity, vision, drive and the ability to manage many roles among them." Early-stage charities are often philanthropy and vision-lead, and sometimes the more experienced and sanitised business approach can help a charity to prioritise it's goals and identify exactly how to achieve them.
At EducAid, we are fortunate to have a board of trustees that are incredibly committed to the charity, and whose experience spans several directly relatable fields of industry. It is through their careful planning and strategy that the charity continues to grow in both size and impact. Charities can operate in many different ways, but our trustees work very closely with Miriam to ensure that the vision coming from Sierra Leone is matched by the resources and planning from the UK. If you would like to read a bit more about our trustees, you can do so here.
In EducAid's field of operations, business can also perform several functions. A few weeks ago we wrote about the unseen importance of education in 'Consciousness, Self-Awareness and Impact', and in this we wrote that there are a multitude of other positive impacts to education that lay outside of literacy, analytical thought, and the employment prospects that go with those things. Alongside these elements of personal development are, of course, the improved professional credentials of an individual. One of our own trustees, Adrian Carr, has in fact been out to Sierra Leone to oversee a project that gave students and staff the chance to develop a business idea to which they would provide support and some financial backing. This level of professional guidance and interaction is rarely encountered by our students in Sierra Leone, and has proven to be extremely useful. Not only does it take education out of the conceptual sphere of personal development and root it in a practical application in the real world, it also has the capacity to yield great ideas. Many people have written of sub-saharan Africa as being full of energy, initiative and innovation, and it could be a wellspring of ideas that the whole world can use if nurtured and harnessed properly.
The skills that the business world provides are desperately needed in Sierra Leone. Empowering our students with the confidence to operate in a business environment are key to elevating them from the poverty from which they came, and in turn to help them pull Sierra Leone from it's low position on the Development Index.
On 29th April, EducAid will be representing itself at the Resonate Connect event in Manchester Cathedral. This is an event that connects businesses and their employees with charities. It is in no way an exclusively beneficial arrangement for charities to take on talented business people in placements; employees that are tasked to go and solve problems for philanthropic organisations – encountering unique challenges in the process – often come back to the company with a new sense of perspective and a great sense of achievement. The organisers of the event are extremely vocal about how these arrangements are mutually beneficial, not from a CSR-related point of view, but from a position of genuine experience and development.
As previously mentioned EducAid has partnerships that encourage business development in Sierra Leone, but if you think you can work with us please do speak with one of our representatives at the event. At Resonate Connect we will also be there to invite interest from small, medium, and large businesses in to signing up for payroll giving. If you know of any business owners or professionals in the Manchester/North-Western area who might be interested in joining, please do forward them this post so that they can read a little more about the event from the link below. The evening should be a beautiful one: with a few short speeches from the charities involved; a keynote speech from the Chief Executive of the Manchester City Council; and a full wine bar and catering by Harvey Nichols, it'll be good just to come and meet some of us from the charity – if nothing else!
Please do come down and show your support – there are so many ways that you and your companies can get involved. It's amazing to think how much impact such a small amount of money can make when you coordinate a large number of people – this event hopes to facilitate some of that.
Event details can be found at the Resonate Connect website, here. Please register if you are interested and do let us know that you're coming on facebook!
Let's make it an #EthicalManchester on 29th April!