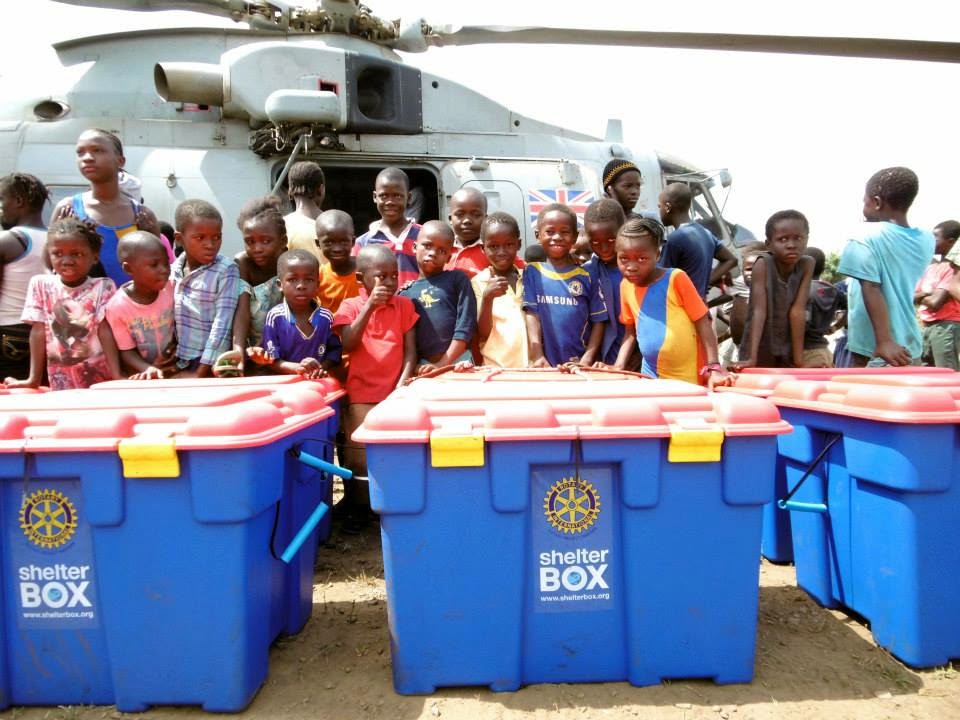 Over the past few months, the crew of the RFA Argus have been supporting EducAid in a variety of ways. The ship performs several functions but it's main role is the Primary Casualty Receiving Ship for the Royal Navy; with state of the art medical facilities it is deployed to provide medical cover for all personnel deployed in Sierra Leone to tackle the Ebola outbreak. Although it is not designed to help with Ebola cases it does provide the peace of mind for all those working to stop Ebola.
The UK's military has been in Sierra Leone as part of operation GRITROCK since October 2014, and is part of the wider humanitarian aid program led by the Department for International Development (DfID) and involving non-government organisations. The UK armed forces have so far played a pivotal role in providing support as they work with the government of Sierra Leone to tackle the crisis. Using British expertise and local building contractors, the UK has committed to support 800 new beds in Ebola treatment facilities. This package will further support the country's stretched public health services in containing the disease by building and manning the medical faculties to care for nearly 8,800 patients over a 6-month period.
Over the past few weeks I have been talking with Petty Officer Diccon Griffith, the man responsible for establishing the connection between EducAid and the RFA Argus. I asked him a few questions about the general mission and how they came to be involved with EducAid.
For many of us, we have seen that the government pledges money and assistance from the British armed forces to fight the Ebola outbreak, but few know how that help actually plays out in real terms. Will you tell us a little about your deployment?
The ship sailed from Falmouth on the 17th October for what is expected to be a 6 month operational period. We have been providing advanced medical facilities for up to 1200 entitled military and civilian personnel who have been deployed to construct and man the 8 x 100 bed Ebola Treatment Centres that are being built in various key locations around Sierra Leone.
Sierra Leone suffers from a particularly poor transport network meaning that getting around the country is very slow going. In addition to the medical facilities that the ship is able to provide, we have 3 highly versatile Merlin Mk 2 helicopters from 820 Naval Air Squadron which are being used in the crucial support role to transport key personnel, equipment, and more recently food and medical supplies around the country. The ship also has an amphibious inshore capability thanks to the Royal Marines from 42 Commando and 539 Assault Squadron. There are currently 350 Naval Service personnel embarked in RFA ARGUS.
You are clearly doing very positive work already, what made you want to raise money for charities as well?
Looking into Freetown and the surrounding areas that have been badly affected by the Ebola virus I realised in the very first week that there was much more we could do to help. It was after one particular sortie where we flew into one of the worst affected towns, Port Loko, with some of the UK media that got me thinking about a charitable effort. I had the privilege of speaking to many of the children and capture some powerful images using the squadron camera. Each and every face I saw seemed so happy that we were there, many of them quoting the slogan that is seen stickered on many of the UK and UN vehicles out here "Togeder, we de fet Ebola [Together, we will fight Ebola]". It was this slogan and the definition of "Together" that really got me thinking; that word could extend to everyone at home and needn't be limited to the 800 or so military personnel working in Sierra Leone.
How did you first come to hear about EducAid?
I began researching children's charities in the country, but it was actually a pilot that put me on to EducAid after hearing a radio interview with Miriam during a trip back to the UK. 41% of Sierra Leones population is under the age of 16, so we wanted to find a charity that would help this vulnerable age group. After looking around their website we knew straight away that we had found a very suitable charity; reading about their vision and approach to improving the future of under privileged children – many of whom were badly affected first by years of civil war, and now Ebola – fit what we were looking for perfectly. We organised a visit to meet Miriam Mason-Sesay, the EducAid Country Director, and looked around two of her schools in Port Loko. We met some amazing children, and heard about the challenges that are being faced by the charity to provide these students with an education that they deserve. I have had the privilege of visiting one of their primary schools on several occasions, and each time I have been overwhelmed by the sense of community and the positive attitude of everyone that I have met at this difficult and testing time.
What fundraising initiatives have you started on-board?
Falmouth – Freetown Row
The crew on board have successfully rowed the distance from Falmouth to Freetown (4461km) during the month of December and the theme of buying a kilometre for £1 was well received by service families and the general UK public who were keen to get involved with the fundraising. The £4461 was raised extremely quickly and was used by EducAid to purchase a reliable heavy-duty generator. This generator will allow for up-to-date electronic teaching methods to be used at secondary school level, and to facilitate the vital 24-hour Ebola medical screening checks to take place.
Reindeer Racing Night
A festive evening on the flight deck was another successful fundraiser that took place on Christmas Eve. The event itself involves large dice and big board game type layout, and is a regular Royal Navy favourite for entertaining the whole ship but this time with a Christmas twist. We raised £940 from this event.
Donation of 1 x Days Sea Pay
Deployments that involve a significant period away from our families bring with it a bit of extra pay, (averaging £12 – £15 per day depending on how long you previously spent at sea during your career). Many of the embarked personnel have happily donated 1 day of extra pay to go towards helping the charity. £1100 cash has been raised so far from just one department on board.
Run, Cycle, Row 1 mile for every victim of Ebola
The 13 members of the Royal Marines Band service on board have undertaken a physical challenge to run, row or cycle one mile for every person who had died of Ebola up until the end of 2014. They did this challenge from the 15th January until the 10th March. So far this challenge has raised £1,670.
How do you think the proceeds of these initiatives are helping?
I have seen first-hand the impact of the items that have been kindly donated by friends and family of embarked service men and women. On a visit to the school in Maronka I met two children that tragically lost both parents to the Ebola Virus and were recently taken in by EducAid. When Miriam went to pick them up from their village their entire life possessions fitted inside two plastic carrier bags! It is as a direct result of the generosity of our friends, families, and supporters that over 1.5 tons of donated clothes and educational materials have been donated. Personnel from 820 Squadron had the opportunity to deliver some of the donated clothes and toys just before Christmas. A truly magical day was had by all and it was inspiring to hear the stories of EducAid staff (all former EducAid students) that had successfully completed their teacher training and were now working with the next generation of children. Whilst these two youngsters have tragically lost their family, some solace can be taken that they at least have a safe environment to grow up in with an education as part of the EducAid family. The response from everyone at home to this appeal has been phenomenal and better than we ever could have imagined. The current fundraising total to the charity stands at £10,900, plus an awful lot of physical donations. The RFA Argus has also been instrumental in connecting EducAid with BandAid; this relationship has lead to a huge contribution towards EducAid's efforts in Sierra Leone.

On behalf of the crew of RFA Argus, EducAid, and the Charity Committee on board I would like to say a huge thank you to everyone that has been involved with the appeal. I would like to say thanks again for all the donated items. They really are making a huge difference to the lives of so many.