The context
Sierra Leone ranks 100 out 102 on the Social Institutions Gender Index [SIGI] because of statistics like:
· 47 per cent of girls between 15 and 19 years of age are married, divorced or widowed.
· Between 80 and 90 per cent of women are circumcised.
· 77 per cent of Sierra Leonean women think that gift marriage is acceptable.
· 9.5 per cent of women [20.4 per cent of men] have secondary education or above.
The above statistics add up to an environment where it is extremely hard for any girl to achieve her full potential in any aspect of life and thus overall as a woman.
There is little or nothing in the life of an average little Sierra Leonean girl to make her feel of value.
The aim
The purpose of the Girls Safe House in Maronka is to provide a home in which girls who would otherwise be vulnerable to a wide variety of emotional, mental and physical threats, can grow up strong in spirit, mind and body so they can live their lives to the full and contribute fully to society.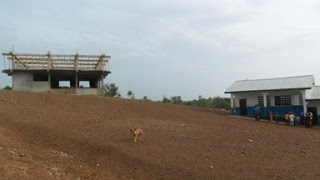 Girls' Safe House under construction – looking over the village.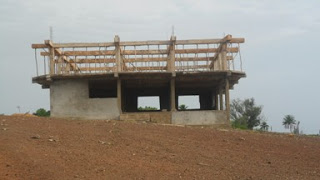 Concreting of lintels
Specifically, who will live in the safe house?
Maronka is a tiny village of approximately 20 adults, 2 miles from Port Loko in the north of Sierra Leone.EducAid has a small primary school in Maronka of 180 children, of which 30 + stay in the village but are not originally from there. 15 of them are girls. There are also a number of girls who walk long distances to come to school each day from the surrounding area.This home will accommodate the 15 little girls who currently live scattered across the village, many of the village girls themselves and will provide the opportunity for many others from distant villages to stay at least during the week.


Little girls like:
Isatu, who we found living on the beach and hungry. She had run away from a difficult and very deprived home situation and had never been to school. She had learned to survive on the streets and some of her habits were not great. Now, she is catching up at school and is a much-loved member of the village community – a changed young woman on the way to being somebody.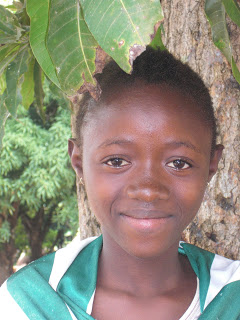 Isatu
Mariama was kitchen skivvy to a family in Freetown; a difficult little miss who did the opposite of everything she was asked to do and got herself a regular beating as a result. Taken to Maronka to start school, at long last, she is now a delightful little girl responding to love far better than she ever did to violence. She is nearly always top of her class.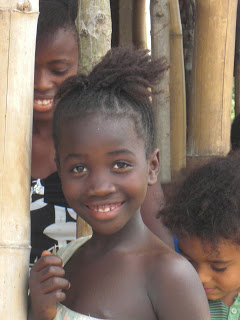 Mariama
Binta was left to bring herself up at 2 when her mother was sent to prison. She has clearly been seriously neglected for the best part of her little life. She had a heart-breaking habit of throwing herself into the arms of all visitors, seeking a bit of love and attention. She speaks now, though, and is starting to hold her own with her new playmates.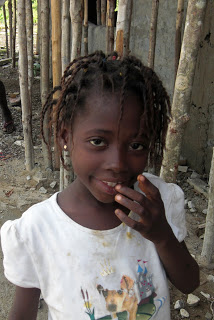 Binta
EducAid and Women
EducAid runs the only free secondary schools in Sierra Leone and our target has always been to have an equal number of boys and girls in all our schools. This proved impossible until we introduced our catch up programme for girls: The Women's Project. The WP works with girls of all ages and standards who are beyond primary age but have not effectively finished their primary education. However long it takes: 2 weeks or 2 years, a girl can stay in the women's project working on basic skill acquisition until she is competent and confident to enter the mainstream secondary school.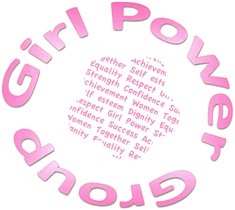 The
Women's Project
has been very successful at getting girls into school but we still see a lot of underachievement due to low self esteem, low expectations and social and family pressure. To address these issues we now have a Girl Power Group, which teaches girls and young women about their rights and seeks to enable them to achieve more completely.
The Girls Safe House aims to address these issues at an even earlier stage and pre-empt the problem before low self-regard is allowed to take root.
Want to help?
We need:
· Donations – see the Standing Order & Gift Aid Forms incorporated into this brochure
·
Materials:
nice things to equip the house with; clothes, toiletries, starter kits [see suggestions above] – please contact
Miriam@educaid.org.uk
If you are interested in knowing more about EducAid's work with vulnerable young Sierra Leoneans, please go to
www.educaid.org.uk