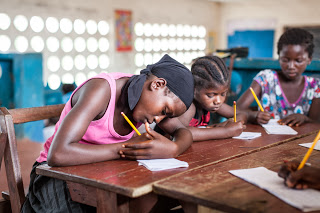 2013 had some very hard things happen. We have lost a number of students. Their young lives were cut short before time
and their families have lost the hope that they brought to them and we have
lost their gifts from our midst too.
They have gone and we are left.
Let the light that went with them not be lost altogether. Let us carry that light for them. As we go forwards, let us remember that we
have an even greater responsibility to use our gifts and carry on the fight for them as well as for ourselves.
Some have had disappointments and not been promoted or
moved forward in our lives at a time when they wanted it and have had to learn
the virtue of patience. Many have learned to be proud of their decisions to wait and to use the time well.
We have also had some fantastic successes:
100% in the NPSE and the BECE (as usual – fantastic
achievement by staff and students and representing a lot of work!)
Over 150 teachers trained through the QEP and QEPM, having
an impact on the education of nearly 9000 children!
8 out of 8 applicants to the African Gifted Foundation
Summer Academy were invited to Ghana and had a wonderful time in Accra.
6 out of 12 places offered went to EducAid girls for the
GoWoman mentoring breakfast in Freetown.
3 Slow Farms started under Carrick's management but with the
great hard work of many many staff and students.
A wonderful EducAidian Professionals Conference was held
where 100+ past pupils committed themselves to counter culture values of
integrity and resistance to corruption.
Together, in 2014 and indeed going forward, we believe we can
build on all these achievements and we have the potential for an amazing
future.
The Sierra Leone we are targeting is a strong Sierra Leone
with a healthy population: healthy in spirit, mind and body – resistant to
corruption, providing good health and education services to its people, leading
the way in sustainable independent development and technology. This is a Sierra Leone, where there will no
longer be a great difference in wealth between the rich and the poor; a Sierra
Leone where some are willing to come down a notch or two in order for the
wealth to be shared more equally to everyone; a Sierra Leone, where every
Sierra Leonean is a brother or sister with equal chances to achieve and equal
responsibility to give.
In EducAid we want to learn to educate and be educated in
order to make this real. We want to use
our education to disrupt injustice and inequality, as much as possible. We invite each member of staff and each student to see the gaining of their own
education not as a means for them to leave the group of the oppressed and become one of the
oppressors but to help the oppressed rise up with them and to hold the
oppressors to account. If one person alone
succeeds, they fail. If someone succeeds while bringing others with them, that is true success.
Let us rise but let us maintain our compassion. Let us see our education as a means to change
not only our own personal situation but that of our communities and indeed of the
country as a whole. If we can maintain
our motto of Love, we are powerful. If
we forget love, we will use our education to be better crooks, liars and
thieves. In that case, it would be
better that there was no EducAid!
We have the opportunity to do something very exciting if we
work together and pursue excellence in our academic studies as well as in our
service and love of one another.
We call all EducAidians to use this time of Christmas to choose to
love; to love powerfully and courageously.
If you would like to know more about EducAid's work with vulnerable young Sierra Leoneans, please go to www.educaid.org.uk