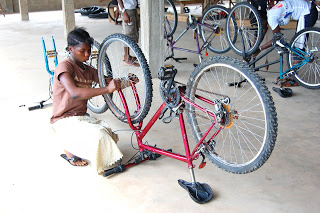 This Saturday saw 20 students and teachers attending
the village bicycle project workshop here in Rolal at the teacher
training centre. Its been really great working in partnership with the
Village Bicycle Project which aims to
Bring discounted bikes to regions where bikes have been infrequently used
Offer bicycle riding and repair workshops to communities and people in need
Provide specialized bike tools and parts to keep bikes rolling
Address the special needs of African women and girls
Check out their website for more information www.villagebicycleproject.org
Several
of our students walk 4 to 6 hours to get to school each day and having
their own bicycle will cut the travelling time by half, so making more
time for studying instead!
For teachers it means a
cheap way to travel, when they need to for their work and to
enable them to do the much needed outreach work in the community and
communicate with parents and carers in the surrounding villages.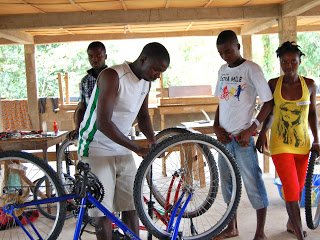 Both
students and teachers were taught simple maintenance and repair skills
on their own bicycle and the project also provided a repair kit for the
site. Young women and men learning new life changing skills and enjoying it too!!
We
had 9 girls on the workshop and one girl said she wished she had
learned to ride a bike early on in life as she had been so nervous at
first. She is now riding with confidence but says she will be on the
alert for all the pot holes, of which there are many in Port Loko.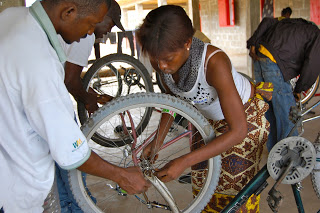 We
also had one student who joined the workshop with his own bicycle which
he thought was beyond repair and Joe and Jak showed him how to repair
and transform it, so he is one very happy lad now.
It
is good to blow the EducAid trumpet now and then……………Jak the
trainer was very impressed with EducAid students and said "we finished
the programme early as the EducAid students are very quick to learn and
take responsibility for their own learning, it's fantastic really"
Thanks
Jak and Joe and we are looking forward to next week when 20 more
students, staff and community members from Maronka learn new skills and
receive their bicycles.
Remember if
you haven't sponsored us already, we rode over 240 miles from Hoek Van Holland to Brussels, how about
that!! Its not too late you can sponsor the EducAid bike ride by
clicking on this link
http://mydonate.bt.com/fundraisers/annbeatty1
If you are interested in knowing more about EducAid's work with vulnerable young people, please go to


You can keep up with the currrent news and activities at the EducAid Face Book website: